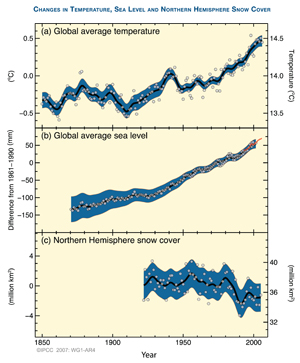 Figure from the IPCC Assessment Report 4, Working Group 1 Summary for Policymakers
Over the last 150 years, scientists have observed an increase in global temperature3. There is a very high degree of confidence and agreement among scientists that the higher global temperature is caused by human activities that increase greenhouse gases in the atmosphere3. Greenhouse gases are expected to cause further warming of the global climate with rates that could be greater than what was experienced in the 20th century3. Warmer temperatures in turn influence other aspects of the climate system, such as precipitation, that many living things depend upon4. Actually, changes in some species' normal life-history patterns due to climate change have already been observed at National Parks throughout the United States4. For example, winter ranges of bird species have shifted northwards in over 50 parks, small mammals' habitats have shifted upslope in Yosemite, and conifer tree mortality has risen in four parks4.
As a result of warmer temperatures, scientists have observed a rise in global sea level and this has important consequences for south Florida3. Sea level measurements are similar throughout the south Florida region and some even date back to the 1840s, making it one of the longest records in the U.S.5 The average rate of sea level rise from the monitoring station in Key West is 13 cm (5 inches) per century for the period from 1846 to 1992 and is consistent with the global estimate of about 12 cm (4 ¾ inches) per century from the 1990 Intergovernmental Panel on Climate Change First Assessment Report5. This accelerated rate of rise-brought about by human-caused warming-threatens to outpace the ability of plants, animals, and processes of the Everglades, which are already being affected by sea level rise in many ways, to adapt.