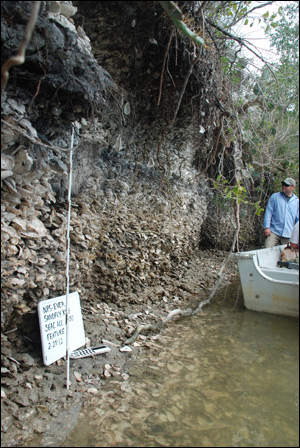 NPS Photo
Not only are natural resources affected by climate change, but so are the many cultural resources in south Florida. These include various artifacts and shell works originating with Native Americans, shipwrecks, pioneer homesteads, and even a Cold War era Nike Missile site.
Sandfly Island in the Ten Thousand Islands Archeological District of Everglades National Park is an important cultural site currently impacted by climate change. It consists of 22 acres of prehistoric networks of earth and shell mounds–or middens–that are approximately 3,000 years old
11
. Water erosion and wind damage over the years have made parts of the Sandfly Island shoreline and its tidal creek banks collapse. This further exposes the fragile archaeological site to sea level rise and increased salinity that can harm the artifacts. These sites allow scientists to examine human history, but the artifacts may be less useful in the future if they are washed away or too damaged to analyze.
In 2012, using a high resolution 3D laser-scanner, scientists were able to collect data such as artifact locations and shell orientations from the eroded Sandfly Island banks. These data can show how many and what types of artifacts exist now and can then be compared to data collected in the future
11
. The park would likely benefit from information like this for the hundreds of other cultural sites that exist. However, the challenge for cultural resource managers is to balance the acquisition of additional site inventories with working to protect known cultural resources.