Fishing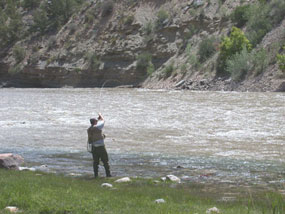 NPS Photo
Fishing is allowed in Dinosaur National Monument, subject to the regulations of the state in which you are fishing. A valid state fishing license is required for fishing even though the monument is federal land.
Anglers are reminded that there are four endangered species of fish found in rivers in the monument: Colorado pikeminnow, razorback sucker, humpback chub, and bonytail. These fish should be immediately released with as little harm possible if caught. More information on these fish can be found at the Upper Colorado River Endangered Fish Recovery Program site.
Colorado Dept. of Wildlife – Fishing Information
Guide to Important Fish Species
Download this booklet to read a description of many fish species found within Dinosaur National Monument. (Adobe pdf 1.6 MB)
Did You Know?

Whitewater rafting is a popular way to experience the remote canyon areas at Dinosaur National Monument. You can take a licensed commercial rafting trip or you can tackle the river on your own, provided you have a permit, the correct equipment and the necessary experience.