Portion of Echo Park Closed Due to Mountain Lion Activity

The closed area includes the group campsite (other campsites remain open), river access area, the adjacent restroom, water spigot and the path following the Green River upstream to its confluence with the Yampa River. A fresh animal kill is in the area.
Fishing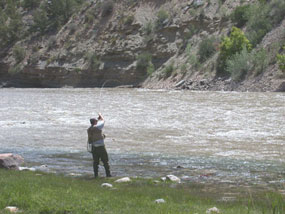 NPS Photo
Fishing is allowed in Dinosaur National Monument, subject to the regulations of the state in which you are fishing. A valid state fishing license is required for fishing even though the monument is federal land.
Anglers are reminded that there are four endangered species of fish found in rivers in the monument: Colorado pikeminnow, razorback sucker, humpback chub, and bonytail. These fish should be immediately released with as little harm possible if caught. More information on these fish can be found at the Upper Colorado River Endangered Fish Recovery Program site.
Colorado Dept. of Wildlife – Fishing Information
Did You Know?

Most of Dinosaur National Monument's 210,000 acres is proposed wilderness. With proper planning, a backcountry trip at Dinosaur can be a wonderful experience of solitude and serenity.