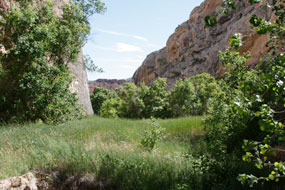 NPS
Hiking Trails
The passes through several layers of tilted rock in which a variety of fossils--from dinosaur bones to fish scales--are easily visible. Signs along the trail identify where fossils can be seen.

Hikers can explore the desert landscape and geology of Dinosaur National Monument on the and the .
The , which runs alongside the Green River between and , offers outstanding views of the Green River and Split Mountain. This trail is also one of the best places to birdwatch at the monument.
and , two short, well-shaded hiking trails, can be accessed from the parking lot near Josie Morris's cabin. Both of these trails allow hikers to explore box canyons--canyons with steep walls on three sides and only one way in and out.