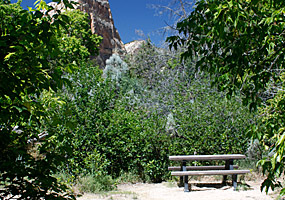 DESIGNATED SITES
Backcountry campsites are located along the Green and Yampa Rivers, but these sites are reserved for boaters during the high-use river-running season, which is the second Monday in May until the second Friday in September. Backpackers may use the river campsites during the off-season.
Besides the campsites along the Green and Yampa Rivers, there are two designated backcountry campsites at the confluence of Jones Hole Creek and Ely Creek, along the Jones Hole Trail. Reservations are required to use this location. Call (435) 781-7700 for reservations.
Maximum group size is 8 at each site.
Treat water from creek before drinking.
Vault toilet available.
Pack out all trash.
No fires.
No bicycles.
No pets.
No soap discharge in creek.
Due to bear activity in the area, proper storage of all food and other items is required.