Water Pump Handles Temporarily Removed

Evitts Creek Hiker-Biker Campground water pump handle has been removed due to bad water samples. Handles will be reinstalled when good water samples are received.
Parking Lot Closure

CSX is now beginning a phase of their bridge project that requires the closure of the Lock 74 parking lot for approximatly 18 months. Access to visitor parking near Lock 75 is now re-opened with a gravel parking lot at the site.
Boat Rides at Great Falls

Regularly scheduled tour times for the mule-drawn canal boat at Great Falls have changed. In July and August 2014 tours will be offered Saturdays and Sundays at 11:00, 1:30 and 3:00. More »
Interpretive Ranger Programs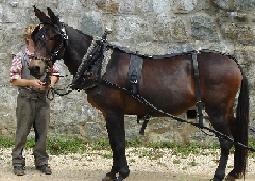 NPS Photo.
Each year the C&O Canal National Historical Park offers a variety of ranger-led programs and visitor activities throughout the park. Please review the following information for a summary of activities and programs by park location.
Great Falls Tavern Visitor Center
301-767-3714
· Canal Boat Rides
Canal boat rides are offered spring, summer and fall months only. Contact the Great Falls Visitor Center for additional information.
· Ranger or Volunteer led Hikes, Bikes, Walks
Join a Park Ranger or Volunteer to explore the Great Falls area in greater depth. Topics include geology, mining, history, and the Great Falls itself. Length varies from 30 minutes to 1.5 hours. Inquire at the visitor center for more information.
· Rileys Lockhouse
Join volunteers in period costume for a guided tour of one of the C&O Canal's original lockhouses and explore the life of a lock-keeper in greater detail. Open most weekends in the spring and fall. For more information please contact the park's Great Falls Visitor Center at 301-767-3714.
Lander Lockhouse Open House
Open Saturdays, 11:00 a.m.-2:00 p.m. mid-April to early October. Closed during Winter Months.


Williamsport Visitor Center
301-582-0813

· Lockhouse 44
Learn about lock keepers and participate in a lock demonstration. Hours vary. Memorial to Labor Day. Inquire at the visitor center for more information. Call 301-582-0813 for more information.
Paw Paw Tunnel Tours
Meet a Ranger at the entrance to the single largest structure along the C&O Canal to learn more about how and why the tunnel was built. For those planning to hike through the tunnel, a flashlight and comfortable shoes are recommended. The tunnel entrance is one half mile from the visitor parking area. Located 25 miiles south of Cumberland, MD off MD Rt. 51 South. For more information call 301 -722-8226. Summer months only
Did You Know?
Canal historians estimate approximately 35,000 laborers helped dig the canal as well as build aqueducts, culverts, locks, lock houses, etc. It took 22 years to build the canal from Georgetown, DC to Cumberland, MD. Much of the workforce were immigrants from Ireland and western Europe. More...