Water Pump Handles Temporarily Removed

Evitts Creek Hiker-Biker Campground water pump handle has been removed due to bad water samples. Handles will be reinstalled when good water samples are received.
Parking Lot Closure

CSX is now beginning a phase of their bridge project that requires the closure of the Lock 74 parking lot for approximatly 18 months. Access to visitor parking near Lock 75 is now re-opened with a gravel parking lot at the site.
Boat Tours at Great Falls

Due to low water levels in the Great Falls area, call the Great Falls Tavern Visitor Center (301-767-3714) in advance of your trip to confirm the mule-drawn boat tour schedule.
Williamsport Visitor Center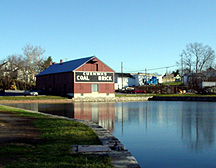 NPS Photo
205 W. Potomac St., Williamsport, MD 21795 (phone 301-582-0813).
Hours: Wednesday through Sunday, 9:00 - 4:30
Williamsport and the surrounding area has a fascinating history. Situated at the confluence of the Conococheague Creek and the Potomac River, Williamsport was first settled in 1740. In 1790 George Washington considered it for the capital city of the United States but rejected Williamsport because of the inability of large ships to navigate the Potomac to this point. Close by is Falling Waters where the Confederate Army made its escape across the rain-swollen Potomac after the Battle of Gettysburg.
Williamsport is the only place on the canal where examples of major canal structures can be viewed within a half-mile stretch. A half-mile rewatered section of canal leads through the turning basin, under the only Railroad Lift Bridge as well as the only Bollman Iron Truss bridge on the canal, and continues to Lock House 44 and the adjacent lock. The Conocheague Aqueduct is located across from the turning basin.
Directions:
From the East: Take I-270 north to 70 west to Hagerstown. Take I-81 north and south exit. (Take exit 26 toward Harrisburg/Roanoke). Merge onto I-81 south toward Roanoke. From I-81 take exit 2 and merge onto Potomac Street/US 11 south. Follow straight to visitor center at bottom of hill, (approximately 1.4 miles).
From the West: Take 68 east to I-70 east/US 40 east/ US-522 South exit, (exit 82AB toward Hagerstown). Merge onto I-70 east via exit 82 B toward Hagerstown. From 70 east take exit 24 and merge onto MD-63/Williamsport Pike. Travel two miles to Williamsport. Turn right onto US-11/MD 63/East Potomac Street. Follow to visitor Center.
From Martinsburg, WV, heading North: Take I-81 north and cross the Potomac River bridge. Take exit 1, Route 68-Williamsport immediately after crossing the bridge. Make a left onto Route 68, through three stoplights to junction with Route 11. Turn left onto Route 11/Potomac Street. Follow Potomac Street to visitor center.
From Harrisburg, PA, heading South: Take I-81 south. Take exit 2, Route 11-Williamsport. Route 11 is also Potomac Street. Follow Potomac Street to visitor center in Williamsport.
Visitor Centers
| Brunswick | Cumberland | Georgetown | Great Falls Tavern | Hancock | Williamsport |
Did You Know?

A mule is a hybrid animal, a mix of a female horse (a mare) and a male donkey (a jack). Remember, "M" for mom, "M" for mare and "D" for dad, "D" for donkey. Switching the parents will produce a hinny. The mule is the superior work animal, preferred by canal boat captains on the C&O Canal. More...