Towpath Reroute!

6/14/14- Towpath breach at MM 106, just below Dam #5. Towpath Detour in place (this detour does not leave park property). Please be aware of possible towpath hazards due to heavy rains.
Water Pump Handles Temporarily Removed

Purslane Run, Stickpile, Evitts Creek Hiker-Biker Campgrounds and Paw Paw Campground water pump handles have been removed due to bad water samples. Handles will be installed when good water samples are received.
Parking Lot Closure

CSX is now beginning a phase of their bridge project that requires the closure of the Lock 74 parking lot for approximatly 18 months. Access to visitor parking near Lock 75 is now re-opened with a gravel parking lot at the site.
Boat Rides at Great Falls

Regularly scheduled tour times for the mule-drawn canal boat at Great Falls have changed. In July and August 2014 tours will be offered Saturdays and Sundays at 11:00, 1:30 and 3:00. Please call the Visitor Center for more info: 301-767-3714. More »
Georgetown Visitor Center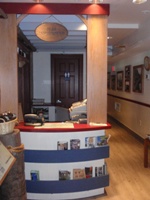 NPS Photo
CLOSED FOR 2014 SEASON
1057 Thomas Jefferson Street, NW Washington, DC 20007 (202-653-5190).
Established in 1751, Georgetown flourished as a tobacco port until the middle of the 19th century. Because of natural obstructions to transportation further up the Potomac River, the Chesapeake and Ohio Canal began here its 184.5-mile journey to the reaches of Western Maryland. Explore the beautiful architecture, rich history and vibrant commercial life that Georgetown offers.
Directions:
From Northern Virginia: Head north across Francis Scott Key Bridge into Georgetown. At the end of the bridge, turn right (east) onto M street. Follow M street to 30th street and turn right (south). The visitor center is halfway down the block on the right. Parking is available in parking garage just south of the canal on 30th street. Buses may park on K Street.
By Metro: There are no metro stops in Georgetown. Georgetown shuttle buses are available from Foggy Bottom, Roslynn, and Du Pont Circle.
For pedestrians, the closest metro stop is Foggy Bottom. From Foggy Bottom metro stop, make u-turn on pedestrian walkway to 24th street and turn right. Take 24th street to Pennsylvania Avenue and turn left. Take Pennsylvania Avenue to 30th Street and turn left. Park is half way down the block on the right. Allow 10-15 minutes for walking. (Approximately 10 blocks).
From Maryland and Beltway: Take Route 355 (Wisconsin Avenue) south approximately 6 miles to K Street and Potomac River. Wisconsin Avenue will end at K Street. Turn left onto K Street and follow to Thomas Jefferson Avenue. Turn left onto Thomas Jefferson and the park is half way up the block on the right. Parking is available in parking garages on K Street and 30th street.


Did You Know?

Transporting goods and people by canal dates back to antiquity. The lock gates used on the C&O Canal were an adaptation of a design by Leonardo DaVinci in the late 1400's. Until the advent of the railroad, water travel was far superior to land travel.