Road to Big Slackwater Boat Ramp Closed

For 60 days contractors will be replacing the bridge on the road to the the boat ramp. The road will be closed for non-offical traffic. More »
Cumberland Visitor Center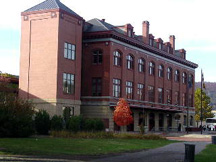 NPS Photo
Western Maryland Railway Station, 13 Canal Street, Room 100, Cumberland, MD 21502 (301-722-8226).
Open April- December 28, seven days a week from 9 a.m. to 5 p.m.
December 29, 2013 - March 31, 2014: Sunday and Monday - 10 a.m. - 4 p.m. Tuesday to Saturday - 9 a.m. - 5 p.m.
(Closed Thanksgiving, Christmas and New Year's Days) Call ahead to confirm hours of operation.
The visitor center features a spacious exhibit area full of interactive and educational displays about the history of the C&O Canal and Cumberland. Pass through a model of the Paw Paw Tunnel and step back into the hey day of the canal. Awaiting you is a life size section of a canal boat. View exhibits on the canal's construction, cargo, mules, locks, and crew.
Directions:
From the East: Take exit 43C off 1-68. At bottom of ramp make a left onto Harrison St. and follow Harrison to the Visitor Center in the Western Maryland Railway Museum.
From the West: Take exit 43C off 1-68. Make a left at Queen City Drive at bottom of ramp. At traffic light make another left onto Harrison St. Follow Harrison to the visitor center in the Western Maryland Railway Museum.
Vistitor Centers
| Brunswick | Cumberland | Georgetown | Great Falls Tavern | Hancock | Williamsport |
Did You Know?

The Paw Paw Tunnel is 3,118 feet long and is lined with almost six million bricks. The 2/3 mile long tunnel saved the canal builders almost six miles of construction along the Paw Paw bends of the Potomac River. The project took twelve years to complete. The tunnel was only wide enough for single lane traffic. More...