NEW Overnight parking system

Before parking a vehicle overnight in any Canal Parking area, visitors must register their vehicle through the new online registration system. Print your reciept and place on your dashboard. If unable to print, please visit the nearest visitor center. More »
Water Pump Handles Temporarily Removed

Water pump handles at Bald Eagle Island, Jordan Junction and Big Woods Hiker Biker Campsites have been removed due to bad water samples. Handles will be reinstalled when good water samples are received.
Boat Tours at Great Falls

Due to low water levels in the Great Falls area, call the Great Falls Tavern Visitor Center (301-767-3714) in advance of your trip to confirm the mule-drawn boat tour schedule.
Parking Lot Closure

CSX is now beginning a phase of their bridge project that requires the closure of the Lock 74 parking lot for approximatly 18 months. Access to visitor parking near Lock 75 is now re-opened with a gravel parking lot at the site.
Cumberland Visitor Center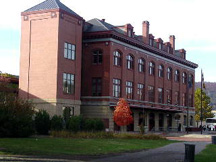 NPS Photo
Western Maryland Railway Station, 13 Canal Street, Room 100, Cumberland, MD 21502 (301-722-8226).
Open 7 days a week from 9 a.m. to 5 p.m.
(Closed Thanksgiving, Christmas and New Year's Days) Call ahead to confirm hours of operation.
The visitor center features a spacious exhibit area full of interactive and educational displays about the history of the C&O Canal and Cumberland. Pass through a model of the Paw Paw Tunnel and step back into the hey day of the canal. Awaiting you is a life size section of a canal boat. View exhibits on the canal's construction, cargo, mules, locks, and crew.
Directions:
From the East: Take exit 43C off 1-68. At bottom of ramp make a left onto Harrison St. and follow Harrison to the Visitor Center in the Western Maryland Railway Museum.
From the West: Take exit 43C off 1-68. Make a left at Queen City Drive at bottom of ramp. At traffic light make another left onto Harrison St. Follow Harrison to the visitor center in the Western Maryland Railway Museum.
Vistitor Centers
| Brunswick | Cumberland | Georgetown | Great Falls Tavern | Hancock | Williamsport |
Did You Know?

The C&O Canal begins in Georgetown. The canal made extra money by selling water to numerous factories in Georgetown to power water driven machinery such as water wheels, etc. Many factories were located next to canal property. More...