Road to Big Slackwater Boat Ramp Closed

For 60 days contractors will be replacing the bridge on the road to the the boat ramp. The road will be closed for non-offical traffic. More »
15 Mile Creek Campground closed Evening of May 9

Attention Campers: Fifteenmile Creek Campground will be closed for repairs May 9th, 5pm to May 10th, 1pm. **The nearest alternative car-camping sites are Paw Paw Tunnel located on Mile 156.1 or McCoys Ferry on Mile 110.4. Thank you for your cooperation.
Howard Street Parking Lot Closed in Cumberland

Starting Mon. April 21, 2014, the paved lot under the I-68 Bridge at Howard St. used for long-term trail parking for the towpath and GAP will be closed for continued bridge repair. Use the gravel lot adjacent to the Footer Dye Works Building instead.
Cumberland Visitor Center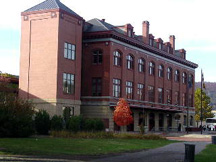 NPS Photo
Western Maryland Railway Station, 13 Canal Street, Room 100, Cumberland, MD 21502 (301-722-8226).
Open April- December 28, seven days a week from 9 a.m. to 5 p.m.
December 29, 2013 - March 31, 2014: Sunday and Monday - 10 a.m. - 4 p.m. Tuesday to Saturday - 9 a.m. - 5 p.m.
(Closed Thanksgiving, Christmas and New Year's Days) Call ahead to confirm hours of operation.
The visitor center features a spacious exhibit area full of interactive and educational displays about the history of the C&O Canal and Cumberland. Pass through a model of the Paw Paw Tunnel and step back into the hey day of the canal. Awaiting you is a life size section of a canal boat. View exhibits on the canal's construction, cargo, mules, locks, and crew.
Directions:
From the East: Take exit 43C off 1-68. At bottom of ramp make a left onto Harrison St. and follow Harrison to the Visitor Center in the Western Maryland Railway Museum.
From the West: Take exit 43C off 1-68. Make a left at Queen City Drive at bottom of ramp. At traffic light make another left onto Harrison St. Follow Harrison to the visitor center in the Western Maryland Railway Museum.
Vistitor Centers
| Brunswick | Cumberland | Georgetown | Great Falls Tavern | Hancock | Williamsport |
Did You Know?
Canal historians estimate approximately 35,000 laborers helped dig the canal as well as build aqueducts, culverts, locks, lock houses, etc. It took 22 years to build the canal from Georgetown, DC to Cumberland, MD. Much of the workforce were immigrants from Ireland and western Europe. More...