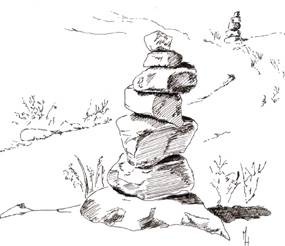 Hiking Suggestions
The summer sun is intense, and some trails rise to 6,900 feet (2,100 m) in elevation. ALWAYS CARRY WATER.
For your own and other's safety, stay on established trails; do not shortcut switchbacks or throw rocks. Hiking routes shown on this map are for location reference only. Routes are not trails and are not maintained.
Camping is not permitted within sight or sound of any trail, road or developed area except at established campgrounds. Before taking overnight trips, contact a park ranger who can suggest backcountry camping areas. A permit is required for backcountry camping and can be obtained at the visitor center free of charge.
Possession, destruction, or removal of any animals, plants, rocks or artifacts is prohibited.
Detailed trail descriptions, hiking guides, and maps are available from the Capitol Reef Natural History Association Bookstore.