Things To Know Before You Come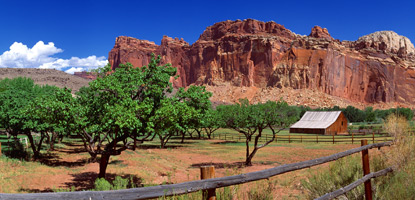 NPS/Marc Martin
As you prepare to visit Capitol Reef National Park, you may find the accompanying pages useful in learning about the park, viewing and downloading maps and other information that may help you plan a safe and enjoyable visit.
Services
Upon arrival, stop by the park visitor center for current information on everything from road conditions to hiking trails, camping, and ranger-led programs and to pick up a copy of the Park Map. Rangers and volunteers are available to answer questions and provide information regarding all aspects of Capitol Reef National Park.
The Capitol Reef Natural History Association operates a bookstore in the park visitor center. Water, sunscreen, and hats are available along with a wide variety of books, maps, and gift items. The store offers something for everyone.
Other services are available in the adjacent communities of Torrey, Caineville, and Hanksville. The Wayne County Travel Council has information on lodging, dining, shopping, activities, attractions, and other local services for Wayne County, Utah. A Local Area Map can help you find your way around.
Pets
Most park service sites are pet restrictive. Please refer to the regulations for more information.
Road Conditions
For current road conditions, refer to our recorded message on our automated phone system at (435) 425-3791.
We recommend that you familiarize yourself with our park by viewing the Trip Planner and our Guide to the Scenic Drive. Interested in hiking? Please consult our Hiking guide for more detailed information.
If you do not have the Adobe Acrobat Reader (needed to view PDF files), it is free and available at: http://www.adobe.com/products/acrobat/readstep2.html.