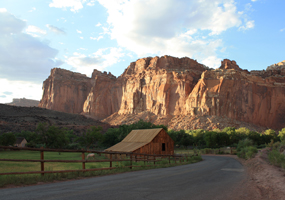 Adam Hiscock/NPS
Residents and Improvements
The original home was built in 1908 by polygamist Calvin Pendleton. He and his family occupied it for eight years. The original house had a combined front room/kitchen and two small bedrooms. An outside ladder accessed two upstairs bedrooms. Pendleton also constructed the barn and smokehouse, as well as the rock walls near the house and on the mesa slopes above it.
The second residents of the home were the Jorgen Jorgenson family who resided here from 1916 to 1928. Jorgenson sold the homestead to his son-in-law, Dewey Gifford, in 1928.
The Gifford family occupied the home for 41 years (1928-1969). Gifford added a kitchen in 1946 and the bathroom, utility room, and carport in 1954.
Life On the Farm
The Giffords raised dairy cows, hogs, and sheep, as well as chickens and ducks. They also ran cattle in the South Desert. They used the smokehouse to preserve meat for their own use and for sale. Dewey Gifford also worked for the State Road Department and later for the National Park Service, to supplement his farm income.
The family ate whatever they raised. The garden produced a variety of vegetables including potatoes, beans, peas, squash, lettuce, radishes, corn, and watermelons. The family also had orchards and grew sorghum. They preserved fruit and vegetables for later use by bottling or drying. Bottled foods were stored in the cellar below the front of the house. Dry goods, such as potatoes, were kept in the root cellar on the back side of the house.
Water was carried to the house from the Fremont River and was used untreated. A two-hole outhouse served the family until an indoor bathroom and plumbing was installed in later years. The house received electricity in 1948.
The Giffords frequently got together with other Fruita residents, especially the Chesnut and Mulford families, for suppers, singing, games, cards, baseball, reading, and quilting. The families were good friends and helpers to each other, an important relationship in a small isolated community like Fruita.
The Giffords were the last residents of Fruita. Dewey Gifford sold his home and land to the National Park Service in 1969 and moved away. With the Giffords' departure, the story of Fruita as a farming community came to a close. Today, the pioneer spirit of Fruita can be experienced by exploring the Fruita rural cultural landscape and by visiting the Gifford Homestead.