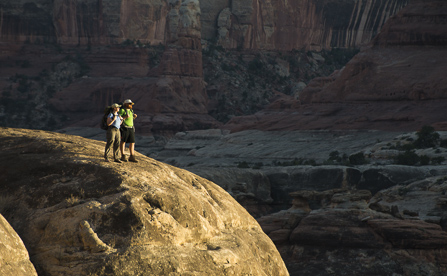 NPS Photo by Neal Herbert
Much of Canyonlands is managed as undeveloped land, and the park has become an increasingly popular destination for backcountry travel.
Permits
are required for all overnight trips in the backcountry. During the spring and fall, demand for permits frequently exceeds the number available. If you plan to visit Canyonlands during peak season, it is recommended that you make reservations well in advance.
Sites and Zones
In order to protect natural and cultural resources and prevent crowding, the backcountry of Canyonlands is divided up into sites and zones, and access to each is limited. There are designated walk-in sites along some heavily traveled hiking trails, primarily for backpackers in the Needles. Most backpackers at Island in the Sky or the Maze stay in at-large zones and may choose their own campsites.
Water
Water is a limiting factor for most backcountry trips in Canyonlands. There are springs scattered throughout the park, mostly in canyon bottoms. There are also large areas, such as the Grabens in the Needles and the entire White Rim bench at the Island in the Sky, where there are no reliable water sources. Obtaining drinking water from the Colorado or Green rivers is difficult as the water is very silty and hard to purify. Backpacking groups are encouraged to pack in water whenever possible. Many springs marked on topographic maps may dry up during periods of drought. Spring locations and current conditions are available at district visitor centers.