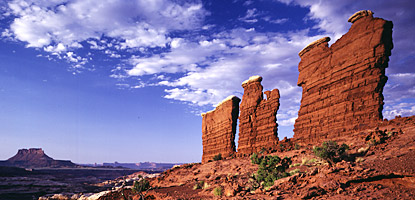 Photo by Mike Hill
The Maze is the least accessible district of Canyonlands. Due to the district's remoteness and the difficulty of roads and trails, travel to the Maze requires more time. Visitors must be prepared for self-sufficiency and the proper equipment or gear for self-rescue. Rarely do visitors spend less than three days in the Maze, and the area can easily absorb a week-long trip.
The Orange Cliffs Unit of Glen Canyon National Recreation Area shares Canyonlands' western boundary and is administered under the same backcountry management plan and permit/reservation system. While some regulations differ, the information here should assist Orange Cliffs visitors in planning trips.
Location
The Hans Flat Ranger Station is two and one-half hours from Green River, Utah. From I-70, take Utah Highway 24 south for 24 miles. A left hand turn just beyond the turnoff to Goblin Valley State Park will take you along a two-wheel-drive dirt road 46 miles (76 km) southeast to the ranger station.
From the ranger station, the canyons of the Maze are another 3 to 6 hours by high-clearance, 4WD (more if traveling by foot). Another four-wheel-drive road leads into the Maze north from Highway 95 near Hite Marina (driving time is 3+ hours to the park boundary).
Read more about driving at the Maze.
Download a guide to Maze district trails and roads.
Ranger Station
The Hans Flat Ranger Station is open year-round from 8 a.m. to 4:30 p.m. There is a small sales area with books and maps. There are no services, food, gas, or potable water sources in the Maze District.
Interpretive Activities
The Maze district offers guided hikes in Horseshoe Canyon most weekends during spring and fall.

A Conversation with Ned Chaffin

In the 1930s and 40s, Ned Chaffin and his family ran cows in what is now the Maze District. Read More

Orientation Video

Witness the grandeur of Canyonlands and its many features in this short video. Read More

Need a Map?

Maps of each district as well as the entire park are available. Read More