Change in Harkers Island Visitor Center Hours

Harkers Island Visitor Center hours will be Monday through Friday from 9:00 a.m. until 5:00 p.m. until further notice.
Getting Around
Most people arrive at the seashore through one of the passenger ferry services. They then walk to where they wish to go. Near the lighthouse a boardwalk makes the journey from the ferry dock to the beach a little easier.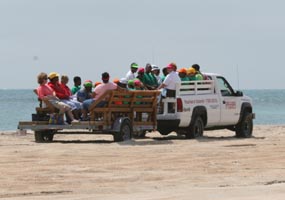 A 4-wheel drive vehicle makes searching for that good shelling, surf-fishing or camping spot a little easier. If you don't have your own check with the ferry services for details on the beach shuttles.
Don't forget to get a parking permit if you will be leaving your vehicle unattended for 24 hours or more. Information and the permit application can be found on the Permits page.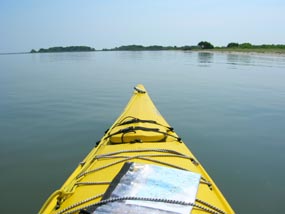 Jeff Lovett, NC Outward Bound
Boats are another way to explore the islands and the surrounding waters.


Did You Know?
If you keep your eyes on the water, you may catch a glimpse of whales' tails (shown here), dolphins playing in the water, or sea turtles popping up for a breath of air. Cape Lookout National Seashore More...