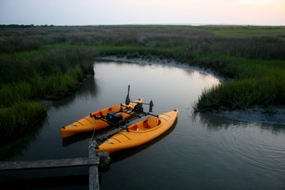 Cape Lookout National Seashore
Float Plans
If you are launching from Shell Point or leaving your car at the Harkers Island Visitor Center, we ask that you leave a float plan with park staff. You can do this in person at the Harkers Island Visitor Center, by fax at (252) 728-2160 with attn: Interpretation Division, or by sending an e-mail (e-mail us).
Files may not be attached if you use the "email us" form. If you would like to attach a completed PDF float plan, please email CALO_Information @ nps.gov using your email account.

Remember to check in when you return: you can come into the Visitor Center, call (252-723-2250), or e-mail us. If you do not check in, we will call your emergency contact to verify your return.
You can bring your own float plan, download our float plan (pdf, 69 kb), or fill one out when you arrive.
If you are launching from another location, we recommend you leave a float plan with someone local (a ferry operator if you are leaving your car with one of the ferry services, a friend who will see you when you return, etc.).
The Visitor Center parking lot is locked from 5:00 PM to 9:00 AM, even when there is a car in the lot. You can park in the can park at the picnic area across the street (Shell Point) if you will be returning after 5:00 PM.
Trail Maps and Routes
Two trail maps have been created by the Crystal Coast Canoe & Kayak Club. One map includes Harkers Island, Shackleford Banks, and the Lighthouse and Cape Point areas of South Core Banks. The other map covers North Core Banks and most of South Core Banks. These maps are now out of print, but a limited number are available at the Harkers Island Visitor Center. Both maps are available for viewing at the Harkers Island Visitor Center.

The Outer Banks Scenic Byway has created a Down East Paddle Trail Map (pdf, 7.2 MB) which includes trails to Cape Lookout National Seashore.
It is also a good idea to get nautical charts for your trip; these can be obtained at local retailers. The nautical charts that pertain to this area are 11544 (ocean side), 11545, and 11550. You can also view the nautical charts online through the NOAA website.
Camping
Looking to extend your paddle or your visit? Information on camping in the park can be found on the Beach Camping page.