The Rocky Intertidal Zone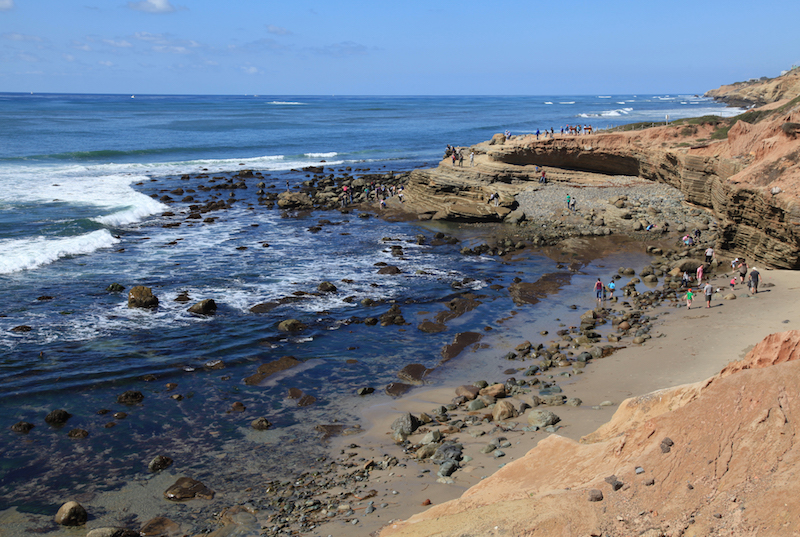 NPS Photo / Dan Zeller
The southern end of Cabrillo is one of the best-protected and easily accessible rocky intertidal areas in southern California. The word "intertidal" refers to the unique ecosystem that lies between the high and low tides along the shore. Tidepools are depressions where water is trapped during low tides, forming small pools that provide habitat for numerous plants, invertebrates, and fish. These depressions are formed over geologic time through a combination of biological, physical, and chemical processes. Although the whole rocky intertidal is often referred to as the "tidepool area," it is important to note that shelves and boulder fields surround the pools, and these also provide a great habitat for the multitude of organisms that call this zone home.
For many people, visiting the tidepools is the only direct experience they have with marine ecosystems. Cabrillo National Monument is an extremely popular destination for tourists, and it is estimated that more than 215,000 people visit the tidepools annually. Compared to sandy beaches, the diversity of life in the rocky intertidal is impressive. People go to the beach to swim, sunbathe, or surf, but they come to the tidepools to explore, experience, and learn.
Explore more areas of the Rocky Intertidal by visiting the sections below:


Mediterannean Coast Network

Find out about NPS research and science cooperative efforts in Southern California Read More

Apply for a research permit at Cabrillo NM

Learn about NPS procedures & requirements for applying for scientific research & collecting permits Read More

Cabrillo has fantastic views!

Binoculars are available for free loan at the Visitor Center.