New Bunker Hill Climbing Pass

From April 8 to June 30, for safe occupancy requirements, all visitors who climb the Bunker Hill Monument must first obtain a free climbing pass from the Bunker Hill Museum at 43 Monument Square. For groups of 10 or more, please call 617-242-5689.
Places To Go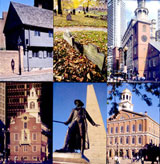 Many of the historic sites that make up Boston National Historical Park can be found along the
Freedom Trail
. In downtown Boston,
Old South Meeting House
,
Old State House
,
Faneuil Hall
, the
Paul Revere House
and
Old North Church
bring to life the American ideals of freedom of speech, religion, government, and self-determination.
In Charlestown, visit the
Bunker Hill Monument
, the site of the first major battle of the American Revolution. Nearby is the
Charlestown Navy Yard
, one of the nation's first naval shipyards and home to
USS

Constitution
, the oldest commissioned warship afloat in the world.
Located in South Boston and separate from the Freedom Trail, Dorchester Heights is significant for its role in the evacuation of the British from Boston during the Revolutionary War.




Did You Know?

Owning a shop to sell sewing supplies was one of the few occupations available to women in 18th century Boston. Many women were widowed by the French & Indian War and supported their families by working in the sewing trades. By 1770 over 70 shop-owning women in Boston were called "She-Merchants."