Places To Go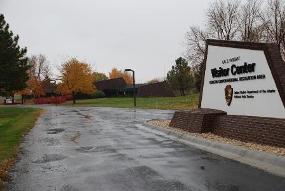 NPS
Bighorn Canyon has four visitor centers/visitor contact stations in addition to five scenic campgrounds to choose from.
Whether you are just passing through on scenic Highway 14A, headed to the Bighorn for fishing or auto touring the park road in the South District, our
visitor centers
page will show you where to learn more about the park!
The
campgrounds
page will give you all the details on either drive or boat in spots, from the surreal red rocks of Horseshoe Bend to the towering walls of Black Canyon!


Did You Know?

There are five distinct rock layers exposed in the ridge at Horseshoe Bend. The Sundance Formation contains marine fossils such as gryphaea, belemnites, and crinoid stems. Above the Sundance, the Morrison Formation, of Jurassic age, contains diplodocus and allosaurus dinosaur fossils. More...