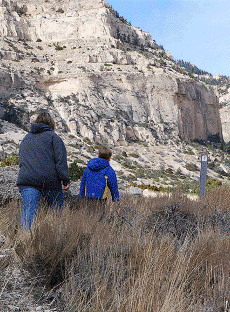 NPS Photo
Bighorn Canyon has approximately:
27 miles of described trails (13 trails park wide) within the park.
The North District of Bighorn Canyon has 3 trails (Beaver Pond Nature Trail, Bighorn Head Gate, & Three Mile Access).
10 of the trails are in the South District
Hiking is a great way to experience Bighorn Canyon. These trails offer varying sights and tranquil settings to better explore the natural diversity the park has to offer. Some trails go through historic ranches while others take visitors to scenic vistas. The trail system is a wonderful way to extend your visit and make it truly unique.

Hiking guides may be purchased at:
Yellowtail Dam Visitor Center
Cal S. Taggart Bighorn Canyon National Recreation Area Visitor Center
Afterbay Contact Station
Crooked Creek Contact Station.

A new Trail and Access Plan is currently out for public comment. To learn more click on the following link:

Bighorn Canyon NRA Trail and Access Planning Site
Maps and other information will be available for comments at http://parkplanning.nps.gov/BighornTrailsPlan.
Comments can also be mailed to:
Cassity Bromley
Bighorn Canyon NRA
20 HWY 14 A East
Lovell, WY 82431