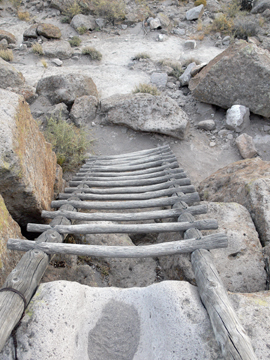 NPS Photo by Sally King
Educational Fee Waivers
Bona fide educational and/or scientific institutions studying Bandelier's specific natural or cultural resources as part of a for-credit curriculum may qualify for a waiver of entry fees. See links below:
Educational Fee Waiver Request Form
Completed applications, and supporting documentation, should be sent to:
Group Reservations
Bandelier National Monument
15 Entrance Rd
Los Alamos, NM 87544
Fax (505)672-9607
(505)672-3861 x412 or e-mail us

When e-mailing please include the following details about the day of your visit:
-date of visit
-arrival and departure time at the Entrance Station
-number and type of vehicles (car, van, bus) that will be arriving at the Entrance Station
-number of students and adult chaperones
-grade the students are in
-picnic lunch or eating in the Snack Bar
For more help planning a field trip to Bandelier….
Entrance Fees
If you are not obtaining an Educational Fee Waiver, the entrance fee for non-commercial organized groups is $6.00 per person for all individuals 16 years of age and older. The Bandelier Annual, Interagency Annual, National Park, Golden Eagle, Golden Age, Senior, and Access Passes allow the card holder, and up to three adults, free admission.
For more information on bus parking...