Trail Closure: Gorge Path weekdays, 7 am - 4 pm

The section of the Gorge Path between the Hemlock Path intersection and the A. Murray Young Trail intersection is closed until rehabilitation work is completed. The closure will be in effect Mondays through Fridays only, from 7 am to 4 pm.
Bubble Pond Carriage Road closure

Bubble Pond Carriage Road will be closed to all traffic Monday 9/15- Wednesday 9/17 from the parking lot to Triad-Day Mountain Bridge. More »
Accessibility

Access Guide

Acadia National Park is constantly striving to make your visit more enjoyable by making facilities as accessible as possible. For information about accessibility in the park, download a copy of the Accessibility Guide.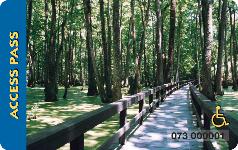 Entrance Fees
U.S. citizens or permanent residents who are permanently disabled are eligible for the Interagency Access Pass. This free, lifetime admission pass is valid at National Park Service, Bureau of Land Management, US Fish and Wildlife Service, US Forest Service, and Bureau of Reclamation sites.
Must be obtained with valid identification
Does not cover or reduce special recreation permit fees or fees charged by concessioners
Available at park entrance stations, most visitor centers, and online; admits pass owner and passengers in a private vehicle
For information, or to download an application visit
http://www.nps.gov/fees_passes.htm
Air Quality
Air pollution produced in eastern states is often carried into Maine by the wind. Park staff monitor ozone levels so that they can issue ozone advisories if levels are dangerous to people with respiratory conditions. For more information call (207) 288-3338.

Medical Information
Call 911 for emergency medical or police assistance or to report accidents or injuries.
Mount Desert Island Hospital
10 Wayman Lane, Bar Harbor, ME 04609
(207) 288-5081
http://www.mdihospital.org/site/

Maine Coast Memorial
50 Union Street, Ellsworth, ME 04605
(207) 664-5311
http://mcmhospital.org/site/

Eastern Maine Medical Center
489 State Street, Bangor, ME 04402
(207) 973-7000
http://www.emmc.org/

Contact Information
Island-wide emergency number: 911

Acadia National Park is continually working to improve access for all visitors. If you have any comments or suggestions concerning access during your visit to Acadia or desire more information about the park, please contact:
Acadia National Park
PO Box 177
Bar Harbor, ME 04609
(207) 288-3338
e-mail us



Did You Know?

Acadia National Park's carriage road system, built by John D. Rockefeller Jr., has been called "the finest example of broken stone roads designed for horse-drawn vehicles still extant in America." Today, you can hike or bike 45 miles of these scenic carriage roads in the park.