Carriage Roads Closed

All park carriage roads are closed until further notice to prevent damage during the spring thaw. For more information: (207) 288-3338
Trail Closures: Peregrine Falcon Nesting

Precipice Cliff and Valley Cove areas are closed to all public entry until further notice for peregrine falcon nesting season. More »
Blackwoods Campground is open

Blackwoods Campground is open and is sites are available by self-registration at the campground. More »
2014 Season Openings

Park Loop Rd, Cadillac Mountain Rd, & Hulls Cove Visitor Center is open. Call (207) 288-3338 or follow us on Facebook (www.facebook.com/AcadiaNPS) for more information More »
Jordan Pond boat ramp parking lot is closed for construction

It's scheduled to reopen on June 28. There may be intermittent openings at the discretion of the contractor. The North Lot parking area will remain open for access to the Jordan Pond House Restaurant & hiking & biking trails.
Maps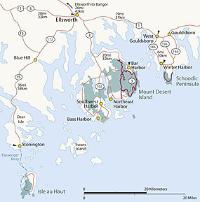 Local Area Map
For driving routes to Mount Desert Island, the Schoodic peninsula, and access routes to islands that are part of the park click here.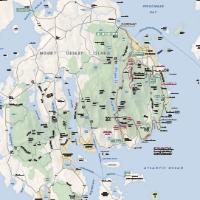 Detailed Acadia National Park Map
For a detailed park map with roads, trails, and amenities, click here.



Did You Know?

Since 1999, propane-powered Island Explorer buses have carried more than two million passengers in Acadia National Park, eliminating more than 685,000 automobile trips and preventing 6,444 tons of greenhouse gases. The fare-free buses are supported by your entrance fees. More...