Things To Do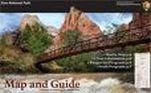 Map and Guide
Planning a trip to Zion National Park can be as challenging as exploring the park itself. The park newspaper contains a wealth of information to help you plan your visit.


Backpacking
Get trail and campsite descriptions and conditions, and find out how to obtain a backpacking permit in Zion.

Bicycling
The Pa'rus Trail and Zion Canyon Scenic Drive are accessible to bicycles.

Birding
Zion is home to 291 species of birds. Bird checklists are available at the visitor centers.

Camping
Zion has three campgrounds. Watchman Campground takes reservations from March through late November.

Canyoneering
Learn about canyoneering in Zion and how to obtain a permit.

Climbing
Find out about climbing in Zion and how to obtain a permit for overnight bivouacs.

Hiking
Zion offers many trails ranging from short walks to strenuous adventures.

Horseback riding
Guided trips are available March through October. Call
1-435-679-8665 or visit www.canyonrides.com

Kolob Canyons
Due to the COVID-19 Pandemic the Visitor Center is open with limited operations. The Kolob Canyon Scenic Drive is open. To protect park resources rangers are patrolling the area.

The Narrows
Learn about what to expect and how to prepare for hiking The Narrows.

Ranger-led Activities
Join a park ranger and learn more about Zion. Check the Park Map and Guide for times, places, and subjects.

River Trips
Find out about boating in the Virgin River. Permits are issued when the flow rate is over 150 CFS.

Stock Use
Learn about bringing your stock animals into Zion. Stock animals permitted are horses, mules, and burros.

Sunset and Stargazing
Where to view sunset and the night sky, plus tips for nighttime safety.


Last updated: February 15, 2022