Good Climbing Practices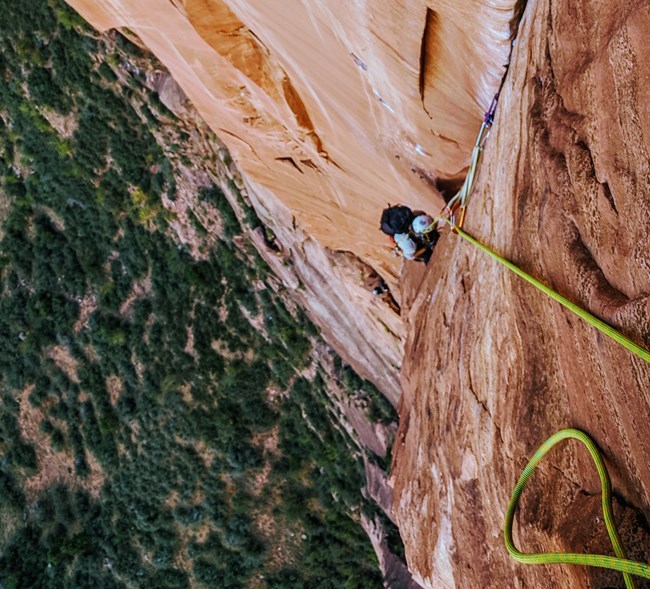 Zion Big Wall Bats – How climbers can help save Zion's bats
Zion's splitter cracks, deep chimneys, and heinous offwidths are home to more than just climbers. Multiple bat species also call these cliffs home. During winter, bats hibernate in deep chimneys and cracks. These features provide stable environments for sleeping bats when temperatures are cold, and resources are scarce. In the summer, cracks provide shelter from predators while the bats raise their young, called pups. Healthy cliff ecosystems are critical for maintaining strong populations of bats. A healthy bat population in turn helps people by providing free pest control by eating important agricultural pests. This reduces pesticide use, saving Americans billions of dollars a year. Unfortunately, our bats are threatened by an invasive fungus which is killing hibernating bats by the millions. To track the spread of this fungus, park biologists need to know where bats roost. This is how you can help! Climbers, please let us know if you find roosting bats while exploring Zion. If you see a roosting bat while climbing, send us the name/location of the climb, what pitch and where on the pitch, how many you saw, and try to get a photo if it is safe and doesn't disturb the bats further. Our bat biologist and cliff ecology team will then visit the roost, test for presence of the disease, and collect importantroost data to help our team find other roosts. All observations can be sent to Zion_Bats@nps.gov
Never Climb on Wet Sandstone
Zion's magnificent walls are made of fragile sandstone. The sandstone absorbs water more than other types of rocks, and loses most of it's strength when it is wet. In the winter, the rock can take up to 4 days to dry after rain or snow events. During the summer, it can remain wet for as long as 48 hours following a rain event. Best practice is to check if the soil at the base of the climb has any moisture in it. If it clumps up at all due to moisture, then the rock on the route is likely wet as well, and needs more time to dry out.
Stay On Defined Trails
Multiple paths to the same cliff or boulder, or "social trails," damage vegetation, destroy animal burrows, and promote the spread of exotic plants. Paths to popular climbing areas are marked with brown posts. Please follow these marked trails when they are present.

When an access trail is not marked, use durable surfaces such as slickrock and stay in drainages or canyon bottoms to avoid creating new social trails.
Don't Bust The Crust
Biological soil crusts contain a complex community of micro-organisms that help to keep the sand in place and provide nutrients and moisture so plants can grow. Thick crusts can be seen as lumpy black areas, much like fungus. When you walk on these living soils, the micro-organisms die. So please don't "bust the crust" by creating another social trail—even if it is the shortest distance to your climb.
Climb Clean
Some of Zion's climbing areas are in designated wilderness. By law, these areas must remain "with the imprint of man's work substantially unnoticeable."
Avoid altering the rock by "nailing" or "gardening."
Never fabricate holds or change the nature of established climbs.
Use neutral or rock-colored stainless steel fixed anchors and corresponding hangers, rappel rings, quick links, and chains.
All of Zion's popular aid routes now go clean. Avoid using pitons, hooks, or cam hooks on Zion's soft sandstone. It alters the routes for future parties and destroys the rock.
Be Considerate of Other Visitors
Don't disturb the natural quiet of Zion by playing loud music.
Limit the size of your group and share the rock.
Never leave a top-rope unattended.
Never leave a fixed rope unattended for more than 24 hours on walls.
Bouldering
There are two accessible bouldering areas in the main canyon. One is 40 yards west of the south entrance, called The Globe. This is a house sized boulder that poses a variety of options and problems. The second is Drilled Pocket Boulder, located 0.5 mile north of the south entrance. It is located on the west side of the road and is a slab with an obvious south facing crack.
Reduce Your Impact When Bouldering
Place your crashpad carefully at the base of the boulder.
Carry your crashpad rather than dragging it.
Minimize the size of your group.
Don't cut or break tree limbs, remove lichens, or damage vegetation.
Clean off chalk holds and tick marks when you are done.
Last updated: November 21, 2021