Eating & Sleeping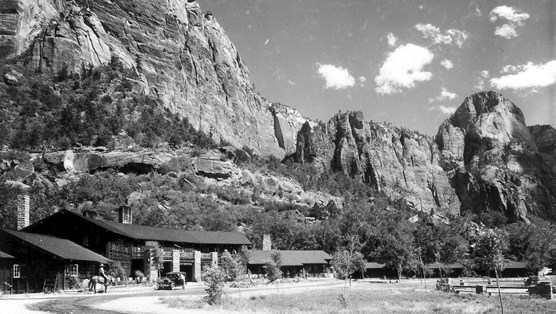 Zion Lodge
Three miles north on the Zion Canyon Scenic Drive. Open year-round. Motel rooms, cabins, and suites available. Zion Lodge also has a gift shop and post office. Reservations recommended: 1-888-297-2757 or www.zionlodge.com

Red Rock Grill Dining Room at Zion Lodge
Open year round. Dinner reservations are advised spring through fall: 435-772-7760.
Castle Dome Cafe at Zion Lodge
Open seasonally.
Additional Lodging and Food Services Outside the Park
Other lodging is available in Springdale, Rockville, Mt. Carmel Junction, Hurricane, St. George and Kanab. For more area lodging and food service information visit:

Camping
Zion has three campgrounds. Watchman Campground is open year-round with reservations from early March to late November and first-come, first-serve during the rest of the year. South Campground and Lava Point Campground are open seasonally. South Campground takes reservations from early March to late October. Lava Point Campground is currently open.
Last updated: August 12, 2021