Commercial Tours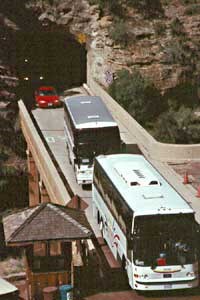 Motor Coach Tours
Hundreds of motor coach tours visit Zion National Park every year. To insure a pleasant and safe visit motor coach companies, guides, and drivers, are asked to please be aware of the following information.

How to Pay
When entering the park, at the South or East Entrance, please have your payment ready (see Commercial Tour Fees below). Credit Card payment is preferred; however, Zion National Park does accept cash and company checks. All checks must have the company's Federal Tax ID printed on the check.
No fee will be collected from an empty vehicle entering the Park for the purpose of picking up passengers.

Tunnel Traffic Control fee of $15.00 (subject to change) is required for all vehicles 7' 10" wide and wider or 11' 4" high and higher. Vehicles over 13' 1' tall or combined vehicles or buses over 50' feet in length are prohibited.

Commercial Tour Fees
$35.00+:1-6 Passengers ($35.00 + $20.00 per passenger not to exceed $70.00)
$70.00: 7-15 Passengers
$80.00: 16-25 Passengers
$190.00: 26+ Passengers

Commercial Road-based Tours:
The National Park Service (NPS) will require all Road-based Tour companies to acquire a Road-based Tour CUA beginning April 1, 2020. Zion National Park is in the process of developing this CUA. If you would like to join our mailing list for updates regarding Zion's Road-based Tour CUA and be notified when the Road-based Tour CUA application package is released, please use this link to provide your contact information.

A commercial tour is defined as consisting of one or more persons traveling on an itinerary that has been packaged, priced, or sold for leisure or recreational purposes by an organization that realizes financial gain through the provision of the service. The entry fees of commercial tours are based upon the total capacity of vehicles that can carry seven or more passengers regardless of the actual number of passengers. Refer to the Commercial Tour Fee Rate Schedule to determine the fee for vehicles with a capacity of 6 or less. Possession of an annual or lifetime pass or the ages of the passengers does not affect the price charged.

What Your Passengers Will Receive
Each couple/family/group will receive a park brochure with information on planning their visit and how to use the shuttle system. Encourage your passengers to read and take this helpful publication with them during their visit.

Where To Park
Loading/Unloading:
The following areas are approved for loading/unloading of passengers:
• Loading/Unloading zone south of the Zion Lodge Lawn (see map)
• Human History Museum (labeled Bus parking area in lower lot only)
• Kolob Canyon Visitor Center parking lot (labeled RV/Bus parking area only)
• Kolob Canyon - Timber Creek Overlook (labeled RV/Bus parking area only)

Zion Lodge - Loading/unloading or waiting for passengers in the loading/unloading zone is limited to 5 minutes maximum. Drivers must remain with their vehicles at all times when at the lodge loading/unloading area. All vehicles must proceed to the authorized parking area once unloading is complete and return to the loading area at a pre-determined time. If designated bus parking is full at the Zion Lodge, buses may remain in the Lodge loading/unloading Zone. During times of full parking, drivers must move vehicles forward toward the front of the loading zone as vehicles leave so additional vehicles can enter the lane behind them. When authorized parking spaces become available, buses must exit the loading/unloading zone and utilize the authorized Lodge bus parking area.

Parking: The following parking areas are authorized:
1. Zion Lodge designated bus parking.
2. Human History Museum (labeled Bus parking area in lower lot only)
3. Kolob Canyon Visitor Center (labeled RV/Bus parking area only)
4. Kolob Canyon Timber Creek Overlook (labeled RV/Bus parking area only)
During non-shuttle bus season (typically between mid-November and mid-February) tour buses may also use the Temple of Sinawava.
Driving on the Floor of the Valley Road (Zion Canyon Scenic Drive)
Drive straight to Zion Lodge. Do not stop or park in any shuttle stop.
Speed limit is 20 mph. National Park Service Shuttle Buses will be sharing the road and their maximum speed is 20 mph.
Do not pass National Park Service Shuttle Busses.
Be aware of hikers, runners and bicyclists also on the road.
Motor Coaches are not allowed past Zion Lodge under any circumstances.
Lodge Reservations:
It is highly recommended that Road-based Tour operators have advance reservations (dining, overnight, auditorium, or tram tour). Advance arrangements for meals at the Zion Lodge dining room (Red Rock Grill) or Cafe (Castle Dome Cafe) can be made through the sales office at 435-772-7752. On weekends, call the lodge directly at 435-772-7700. This procedure allows the staff to serve you better. Reservations are on a first-come, first-served basis and based on availability.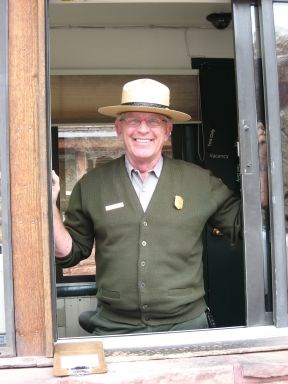 Using the Park Shuttle Bus System

Zion-Mount Carmel Tunnel
Large vehicle restrictions remain in effect for motor coaches passing through the Zion-Mount Carmel Tunnel. Fees must be paid at the entrance stations.
Last updated: August 12, 2019