Zion National Park Recycling Program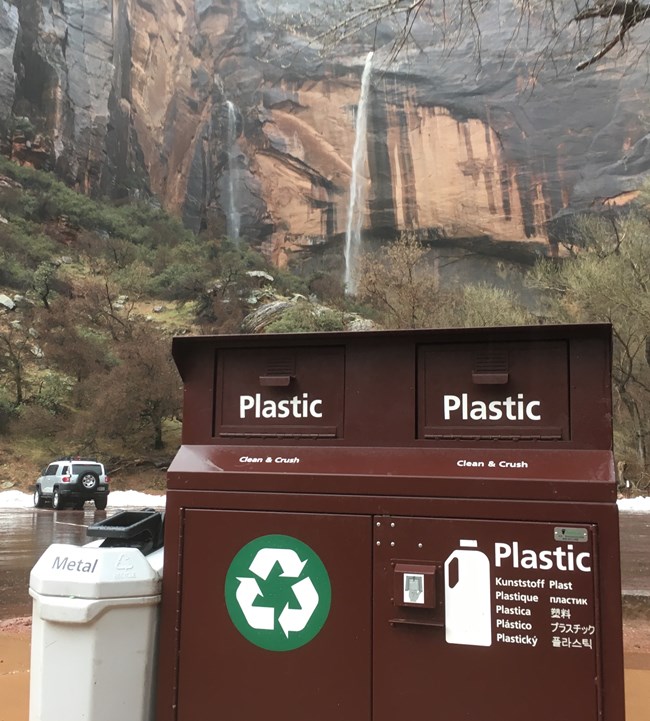 Our Responsiblity
Nature has shown us how, through decomposition, organic materials are broken down into something that can enrich the soil and give life to the next generation. Nature has taught us that this process (recycling) is essential for the continuation of life, and to ensure that the awe-inspiring natural resources are just as awe-inspring tomorrow as they are today.
In 2016, Zion National Park experienced a drastic increase in visitors; exceeding the previous year by over a million visitors from around the world. Accompanying these visitors to Zion was the waste that was left in their wake. Though many countries around the world have strict policies governing recycling, the United States maintains that it is optional. Many times, this has left visitors with limited knowledge as to where various recycling opportunities are available.
The park has various opportunities for visitors and employees to divert waste from the landfill; but through a waste stream analysis conducted at Zion in March 2016, it was discovered that 53% of waste disposed of in trash receptacles could have been recycled. With the help of visitors, the park can improve that percentage, and recycle many of the items that are discarded as trash.
Recyclable
Zion National Park has recycling opportunities for plastic, glass, cardboard, paper, and metal (steel and aluminum cans).
Please ensure that the items discarded into the recycling containers are relatively free of food, liquid, or trash.
Last updated: July 9, 2017