Wild and Scenic Rivers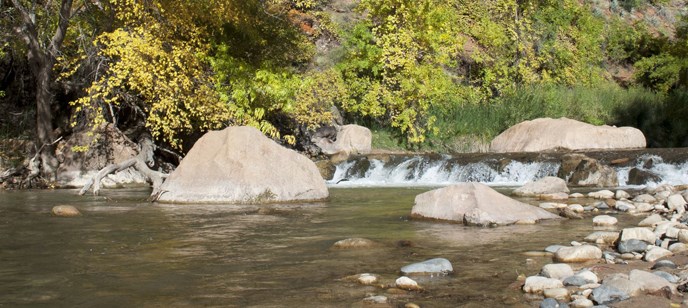 It is hereby declared to be the policy of the United States that certain selected rivers of the Nation which, with their immediate environments, possess outstandingly remarkable scenic, recreational, geologic, fish and wildlife, historic, cultural or other similar values, shall be preserved in free-flowing condition, and that they and their immediate environments shall be protected for the benefit and enjoyment of present and future generations. - Wild & Scenic Rivers Act, October 2, 1968

Wild Rivers in a Wild Country

On March 30, 2009, the upper section of the Virgin River and its tributaries was designated as Wild and Scenic Rivers. But what makes rivers "wild and scenic"? The answer can be found in Zion National Park.

The Wild and Scenic Rivers Act was approved by Congress in October, 1968. Its purpose: to maintain the integrity of rivers and tributaries, and their surrounding environments. A wild river is free from impoundments (dams and channeling) and is inaccessible except by foot trails. It epitomizes remnants of "primitive America." Scenic rivers are mostly primitive with some roads leading to them. Less than 1/4 of 1% of our nation's rivers are protected under the National Wild & Scenic Rivers System. Slipping through Zion's wilderness are over 153 miles of wild and scenic waterways. The state of Utah has 81,899 miles of river, but Zion is the only place in the state that has a Wild and Scenic River.

Where can you find the "wild and scenic ones"? A partial list includes the northwestern Kolob Canyons section of the park, where you can keep company with Taylor Creek, LaVerkin Creek, Timber and Willis Creeks. Off the Kolob Terrace Road, your wilderness permit allows you to parallel the Left Fork of North Creek. When entering the permitted "top down" section of the Narrows, you'll trek through a sandstone canyon in the North Fork of the Virgin River. If rappelling is your thrill, grab your equipment and your park permit for your descent into Pine Creek, and Imlay and Behunin Canyons.

You can help keep these special rivers and streams clean by staying at least 100 feet from the water before using soaps or urinating. Use a human waste disposal bag to carry out solid waste. If you do not have a disposal bag, bury feces 4 to 8 inches deep and at least 200 feet away from any water resource.
Last updated: February 24, 2015