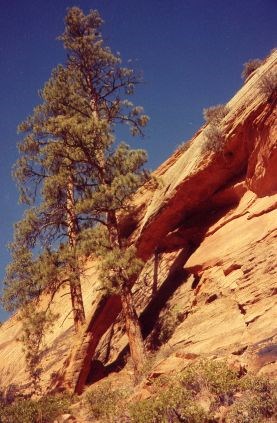 You're hiking eight hundred and fifty feet above the hot canyon floor, moving carefully through a narrow slot canyon and enjoying an occasional breath of cool air, when suddenly, something wondrous comes into view. A ribbon of rock arched proudly against the blue desert sky. Freestanding rock, that compels you to stop and wonder. How did it come to be? Why doesn't it fall? What does this arch tell me about the incredible geology of Zion National Park?
For centuries people have been drawn to these unusual geologic formations. Depending on their cultural background, people throughout human history and prehistory may have felt fear or spiritual awe at the sight of such a large hole in rock, put there by some mysterious force, or perhaps an unfriendly deity. It is equally certain that individuals from other cultural backgrounds saw only grace and beauty in these natural spans. Still, it is a rare human being who can gaze upon a natural arch, or bridge of stone, and not be touched by being in the presence of something special. Rock shouldn't take flight in the sky, but when it does, in scorn of physical laws, people take notice.
A natural arch is formed when deep cracks penetrate into a sandstone layer. Erosion wears away the exposed rock layers and the surface cracks expand, isolating narrow sandstone walls, or fins. Water, frost, and the release of tensions in the rock cause crumbling and flaking of the porous sandstone and eventually cut through some of the fins. The resulting holes become enlarged to arch proportions by rockfalls and weathering. Architecturally, arches are the most stable load bearing structure, but through weathering, eventually all arches collapse, leaving only buttresses that will inevitably give way to the unyielding forces of erosion.