A Plant Library of Zion National Park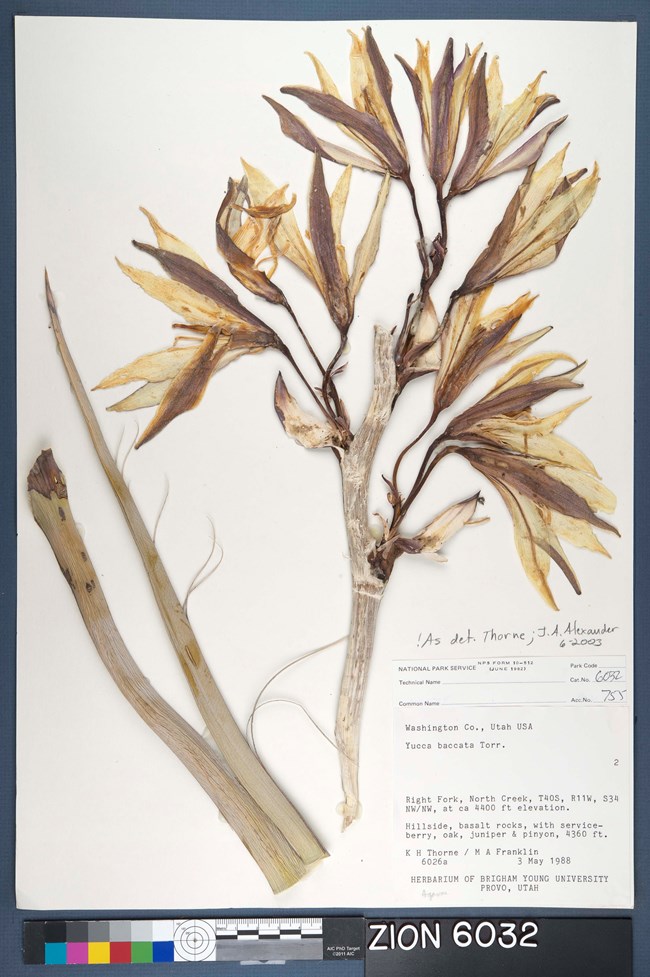 The collection of plant specimens in Zion's herbarium is like a botanical treasure chest. At first glance, the dried and pressed plants may not seem to have much value. But the preserved plants represent the fantastic variety of plant life within Zion National Park, provide snapshots of the park's vegetation at different points in time, and reveal how the park's first naturalists explored and documented living things. Zion's herbarium, a part of the park's museum collection, is a library of plants that has informational, historical, and cultural value. It is used by scientists, educators, and park managers to continue protecting the rich natural world of Zion.
With a location at the convergence of three ecological provinces: the Colorado Plateau, the Great Basin, and the Mojave Desert, Zion National Park is home to a remarkable diversity of plant and animal species. The wealth of plant types, including many that are rare and endemic to Zion, is manifest in the herbarium—a collection of over 3,100 plant specimens representing over 95% of the confirmed plant taxa in the park. Each plant is pressed, preserved, and mounted with information on its taxonomy and how and where it was collected. Although the earliest specimens in the herbarium were collected in the 1920s, additions and updates to this resource continue today. Collecting is prohibited in the park, but herbarium specimens are processed by park staff or researchers with permits.
The herbarium is used by park staff and outside researchers as baseline data to track changes in park flora over time. The current collection houses over 35 irreplaceable specimens which have not been rediscovered in the park since 1970. These species are categorized as historical records and two are believed to be extirpated from park lands. Thus the herbarium collection may be a useful tool in monitoring human impacts and ecological shifts within this protected area. As time passes, the collection becomes an increasingly valuable resource that will undoubtedly be useful in the future management and protection of Zion's abundant biological diversity.

Many herbarium sheets from Zion's collection have been digitized and are available on the NPGallery website.

Return to the Collections of Zion National Park main page
Last updated: February 23, 2020