Keepers of Sanctuary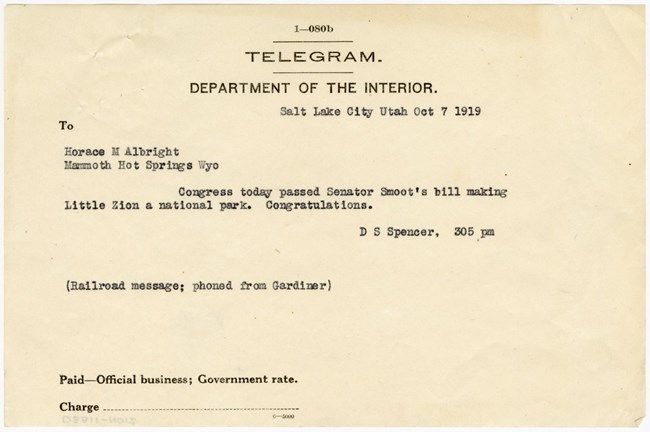 In the summer of 2019, Keepers of Sanctuary: Zion's First 100 Years was on display in the museum. The exhibition celebrated the centennial anniversary of Zion becoming a national park in 1919 and paid tribute to the park's history and changes over the last century. It particularly focused on the influence of concessioners such as the Union Pacific Railroad, artists who have found inspiration here, and resource management by the NPS. Visitors had the opportunity to view items from the museum's collection that have rarely, if ever, been on display, including many historic objects, park publications, and souvenirs from the last century.


In its first 100 years as a national park, Zion has grown exponentially. Its boundaries have significantly expanded, as has its visitation—from 1,814 people in 1919 to nearly 4.5 million in 2018. Catering to this amount of visitors has required many major changes—from the construction of roads and hiking trails, to the establishment of strategies for managing cultural and natural resources, to the building of overnight accommodations and the production of brochures, souvenirs, and other ephemera for visitors.

As stewards of the land, the National Park Service is tasked with preserving the park's natural and cultural resources for the enjoyment, education, and inspiration of current and future generations. Many others have also aided the NPS in achieving these goals. Early artists and explorers of Zion helped spread the word about the area's natural wonders. Concessionaires developed infrastructure to support visitors and make the park more accessible. Zion National Park Forever Project, the park's nonprofit partner, continues to support park operations. This exhibit demonstrates the culmination of these efforts and how, together, they have shaped Zion throughout its first 100 years.
Exhibit Introduction
In 2019, we celebrated the 100th anniversary of the creation of Zion National Park. Although the area has long been home to many Native peoples and early pioneers, the National Park Service has transformed Zion into the place it is today.
Last updated: September 21, 2022