Impressions of Zion Exhibit
This temporary exhibit was on display at the Human History Museum in 2017. It gave the public a look through the eyes of three famed contemporary impressionists; Erin Hanson, Royden Card, and Teri Saa. Viewers were perfumed with modern interpretations of the southwestern desert landscapes of Zion.
Each artist possess a different skill set that naturally alters their reflections and productions.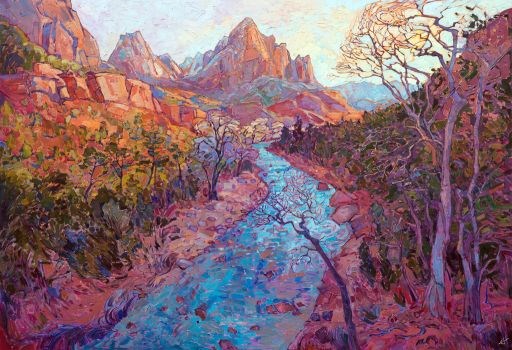 Erin Hanson has been around the block; she's been a prolific, modern master in the rebirth of the impressionist movement. Her passion for natural beauty is seen in her work as she transforms vistas familiar and rare into stunning interpretations of bold color, playful rhythms and raw emotional impact.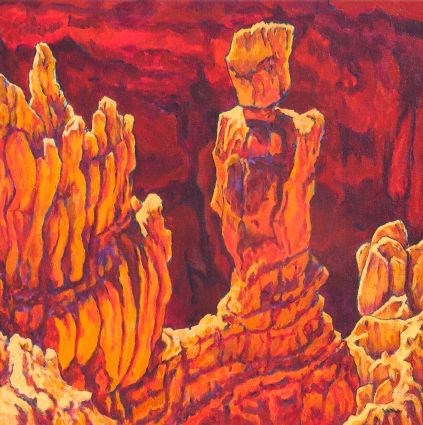 Royden Card from St. George, Utah often participates in the Plein Air event and although he 'doesn't make sense, he does make paintings.' He often depicts desert badlands usually not considered beautiful by offering hints, fragments of its subtle colorations, contrasts and rugged geology.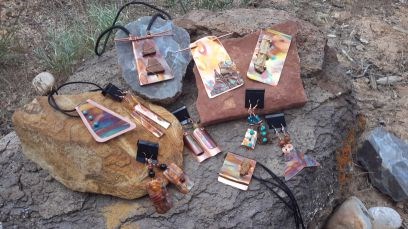 Teri Saa lives in neighboring Cedar City. This self-taught sculptor, wood turner, and jewelry artist also is inspired heavily by the beautiful and historic Southwest's hidden rainbows. Her wooden bowls, vases and candlesticks incorporate copper sculpted into the mountain and plateau landscape. Her jewelry is flame painted copper combined with Navajo Sandstone and beads.
"Each artist will challenge the viewer by sharing their personal interpretation and experience of Zion, and hopefully cause them to view the park with a new lens."
-Miriam Watson, Museum Curator
Last updated: August 3, 2020