Distance Learning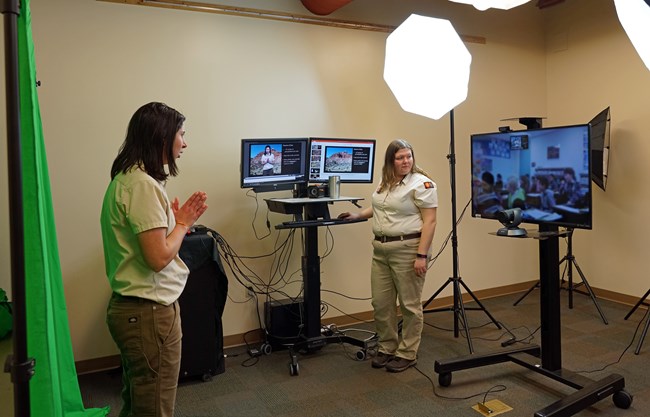 Join a Zion National Park ranger in real time to learn about the National Park Service and what makes Zion National Park unique. Programs are free and created for classrooms and senior learning centers.

Programs are offered Monday – Thursday from 8:00 AM mountain standard time (MST) to 4:30 PM mountain standard time (MST). Programs are available from October 21st, 2019 until April 25, 2020. All programs must be reserved at least two weeks in advance.

Registration for the 2019/2020 school year is now open!

If you are interested in booking a program for your class e-mail us with your chosen program, three preferred dates and times (Mountain Standard Time), and grade level. Applications are processed on a first-come, first-served basis.
Equipment Requirements
To participate in Distance Learning programs you will need check to ensure you meet the minimum equipment requirements.
Large screen, speakers, camera, and computer: We connect to your school through Zoom, a free web-based program. You will be provided with a link to the video conference ahead of time via an email invite. To use this program you may need to download free software or plug-ins. This can be done during the IT program test.
High speed Internet: Videoconferencing requires a minimum connection speed of 384 KB per second. If your school has high-speed internet we will most likely be able to do a program for your school.
Firewalls: Firewalls can sometimes prevent us from connecting with your school. Please contact your technology specialist to determine if this will be a problem. If so, these firewalls will need to be temporarily deactivated in order for us to connect.
An equipment test of your system's capabilities and to confirm the connection prior to your program date is mandatory. These tests will only take a short time, and are essential for ensuring a smooth presentation.
Programs
Review the available Distance Learning programs below to find one that fits into your classrooms lesson plan and time frame. Accommodations for special request programs can be made available.
Last updated: August 15, 2019