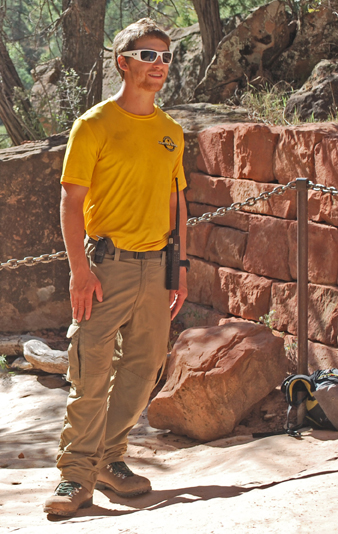 Originally from the Seattle area, Chase Lewine came to the southwest while completing his degree in Parks and Recreation Management at Northern Arizona University. When he graduated in May of 2014, a professor told him about an internship at Zion as a Preventative Search and Rescue Ranger.

Preventative Search and Rescue (PSAR) is an attempt to prevent incidents from turning into accidents through education. With a goal of interacting with a lot of people, Chase frequently hiked popular trails and routes, such as Emerald Pools, Angels Landing, and The Narrows, armed with his knowledge of safety and three or four extra water bottles for under-prepared visitors.

Prevention is the key focus of PSAR, and Chase would frequently set up an informational booth at the Temple of Sinawava to inform visitors of flash flood hazards and precautions to take. On the trail, he talked to hikers about proper footwear and encouraged safer options than sandals or going barefoot in The Narrows or on Angels Landing. Emerald Pools and Angels Landing are common areas where hikers overestimate their fitness or don't bring enough water and food, and Chase was glad to be on the trails to offer assistance to any hiker who looked uncomfortable.

Besides being on the lookout for illness and fatigue, Chase also scanned for hazardous scenarios such as jumping from obstacles in canyons, getting too close to wildlife such as deer or rattlesnakes, and being impatient on the narrowest sections of Angels Landing. Also, as a Leave No Trace Master Educator, he reminded visitors to protect the park around them and spent a good deal of his time picking up trash along the trails in order to serve as an example of good stewardship.

Chase worked with the Emergency Medical Services team at Zion and, when he wasn't doing PSAR, he assisted with medical calls, fire fighting, and SAR operations. Though his time as PSAR Intern at Zion is done, Chase reminds us all to "Be safe and enjoy your time at Zion National Park!"