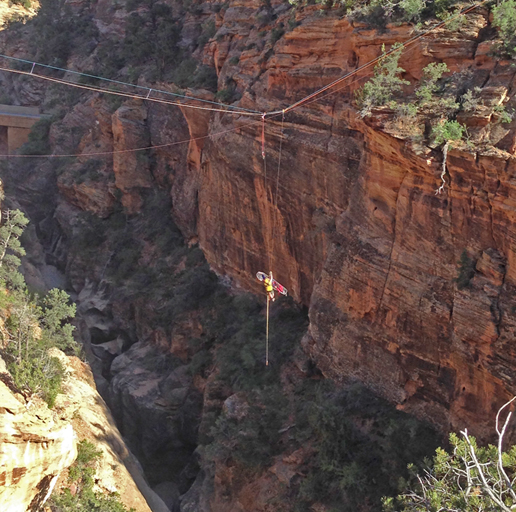 On May 3, 2015 at about 14:00 hours, a fee ranger at Tunnel East reported to Zion dispatch that there was an injured party in Pine Creek Canyon requesting assistance. Pine Creek is a technical slot canyon requiring wet suits and multiple rappels. The Reporting Party (RP) was a member of the injured patients group and had ascended a rope that a subsequent group had fixed at the first rappel. The RP stated that a member of his party had broken his ankle at the second rappel in Pine Creek and would need SAR to help him out.
A technical rescue team was organized and had a high line with a reeve system set up by 17:00 hours. A high line with a reeve is a system where a rope spanning the canyon is tensioned, and then the rescuer and litter are attached to the high line with a pulley and pulled across the high line using tag lines on either side of the canyon. The rescuer is positioned directly over the patient in the slot canyon and lowered using a technique called a reeve.
 Ranger-Medic Ryan McDonald-O'Lear was lowered to the subject. McDonald-O'Lear provided medical care and packaged the patient for extrication. Both medic and subject were then raised to the high line and moved back across the span to the Canyon Overlook trail. The subject was carried off the trail by wheeled litter and transported via park ambulance to Dixie Regional Medical Center. Fifteen SAR personnel took part in the rescue which took approximately 5 hours to complete.