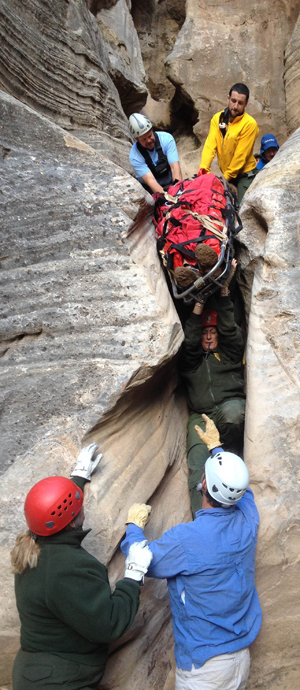 On Tuesday, March 11th, Zion disp
atch received a report of an injured canyoneer in Jolley Gulch along the park's eastern boundary.
Initial responders discovered that the man had fallen approximately 30 feet unrestrained and bounced several times off the rock wall before landing on the canyon bottom. He was not wearing a helmet and suffered significant multi-system trauma.

Due to a lengthy carryout and his deteriorating condition, Grand Canyon helitack was asked to assist with a short-haul operation. In order to get to an appropriate short-haul extraction point, Zion rescuers needed to move the 250-pound man out of a pothole, perform a technical lowering operation, hand carry him down two more vertical drops up to ten feet in height, and navigate a slot canyon layered with snow and ice filled pools – all while in a canyon that was only three feet wide in places.

Gusty, erratic winds hampered the short-haul efforts before the Grand Canyon helitack crew was able to successfully extract the man and a Zion rescuer. To further complicate logistics during the mission, LifeFlight AirMedical (St. George, Utah) was diverted from this mission to another one, but Classic LifeGuard (Page, Arizona) was able to fly the man to a medical care facility.

Details of what happened to the group soon surfaced. The second and final rappel in Jolley Gulch is a two-stage rappel. This team believed that there were three rappels in the canyon and stopped after the first stage of the final drop. They recognized that there was no fixed anchor at this point and would need to build one of their own. They did this by wedging a piece of a literal 2x4 they had found in the canyon into a 'V' groove of the slotted canyon. Their rope was simply looped over the piece of wood and when weighted, the anchor held. Remove any tension from the rope and the 2x4 fell to the ground leaving the anchor nonexistent. This is what occurred. The patient neared the edge transition of the rappel and due to the awkwardness of the slot, unweighted the rope and the anchor failed.

This unfortunate accident serves as an example of how crucial good decision making is. If this group had chosen their anchors wisely, and the patient had decided to wear a helmet, their day in Jolley Gulch may have ended differently.

A few days later, we received this letter:

"I am finally able to sit up long enough to write to you and thank you and your amazing SAR Staff for getting me out of Jolly Gulch back on March 11, 2014. Your SAR crew, as always demonstrated the most amazing examples of professionalism, dedication and compassion. I have known for a long time now that the Zion National Park employees are the best in the national park system.

As you know, I had the opportunity to volunteer with your staff about 8 years ago. I was invited to attend some training and soon learned how complex and technical a rescue or recovery could be. It gave me a completely new respect for what you guys go through. I remember back then telling myself that I was never going to put myself in a position where the SAR team had to rescue me. You know the old saying: "Never say never."

Cindy, I am certain that I would have died in that canyon without your rescue efforts. I suffered 10 broken ribs, a punctured lung, right shoulder damage and a compressed vertebra from my fall. I also realized as I was laying there in the canyon how quickly sandstone in the shade was drawing the heat out of my body. I remember how cold I was getting just before you arrived.

Most people don't get a 2nd chance from a 50 foot fall in a slot canyon. I feel it was nothing short of a miracle that I did II have had a month now to think about and evaluate my own judgment in regard to our rappel. There are several things I would do differently in the future. It is incumbent that I learn from mistakes. My wife told me that I would need to decide in the future whether I want to rappel or stay married. Unless she changes her mind in the future, I will limit my time to simply hiking in Zion.

I also want to thank you personally for talking to me as you and the SAR staff carried me out of the canyon. Talking to me gave me hope that I just might survive the ordeal. I don't even know how to begin to repay you for everything you did for me on that day in March. One thing I can do is to to work hard with the Zion National Park Foundation to raise funding to support ongoing efforts as requested by the Superintendent and Park Service Staff.

I hope to be back hiking in Zion in about 30 days. I am working hard to get the strength back as I miss spending time there. Please extend my gratitude to all of the Park Service staff involved in my rescue. As a result of your efforts, I have a 2nd chance to enjoy the beauty of Zion National Park."