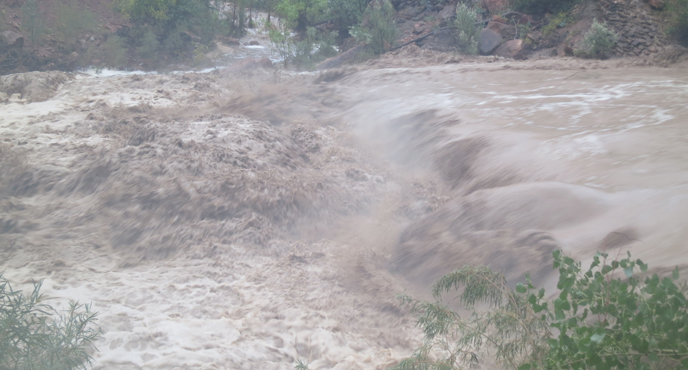 On September 27, 1.9 inches of rain fell in Zion National Park, including 1.27 inches over a three-hour period beginning at 10:30 am. The North Fork of the Virgin River rose from a flow of 52 cubic feet per second (CFS) at 10 am to a peak of over 4,000 CFS at 1:00 pm. As a result of the rainfall, a hiker died while hiking in The Narrows. Flooding forced the closure of the Zion-Mt. Carmel Highway (State Route 9) as well as the Zion Canyon Scenic Drive from late morning through late afternoon. 
On the morning of the 27th, the National Weather Service (NWS) forecast indicated a 90% chance of rain in Zion Canyon with heavy rain possible. The NWS flash flood potential rating was expected, the highest level of concern. Many slot canyons were expected to experience flash flooding. Two men in their 30s and 40s from California drove up Zion Canyon instead of using the required shuttle bus. They began hiking upstream from the trailhead at Temple of Sinawava at 8:00 am. Rain started to fall on the pair while they were in The Narrows, but they continued a short distance up the canyon. They did turn around due to concern with the weather, but were trapped by the rising river on separate river benches 200 feet apart about 0.4 miles north of the end of the paved Riverside Walk. Both were on high ground and safe from the swollen river and both waited for a large portion of the day for the flood waters to drop. They were able to see each other but were unable to communicate due to the noise of the river. 
Late in the afternoon, the downstream hiker believed that he could not survive the night because of hypothermia. He decided to risk swimming the river which was still flowing at a rate of about 1000 CFS. He made it to safety and reported to rangers that his companion was safe and on high ground. Due to the continued high flows, it was impossible for rangers to check on the condition of the stranded hiker. Early on the morning of the 28th, rangers learned that the reporting party had hiked back into The Narrows to the point where he had last seen his companion and he was not able to locate him. A large search team was mobilized and the team located the body of the missing hiker at 2:00 pm on the bank of the river near the Riverside Walk, about one mile downstream from the point where he was last seen.