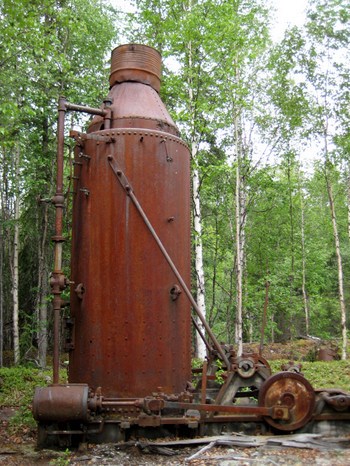 Jim Taylor went outside and bought a great big double barrel logging hoist and a Bagley scraper... It was a losing game because the ground wasn't rich enough to stand that kind of stuff.
---Barney Hansen, 4th of July Creek miner, ca. 1930s

During the Klondike Gold Rush many stampeders searched Alaskan rivers and creeks after finding they had arrived too late to secure gold claims on the Canadian side of the border. One of those creeks was the patriotically named Fourth of July Creek inside what is today Yukon-Charley Rivers National Preserve. In 1898, the first gold-seekers on the scene held a miner's meeting and established some rules: one man, one claim… and use of power of attorney to claim for others was prohibited. Plus, entrepreneurs founded two towns, Ivy City (which quickly faded) and Nation City, located opposite the mouth of Nation River not far from Fourth of July Creek. Nation City boasted a dozen cabins, a small store, and a roadhouse and served as the Yukon River supply post for miners working between ten and twelve miles up the creek.