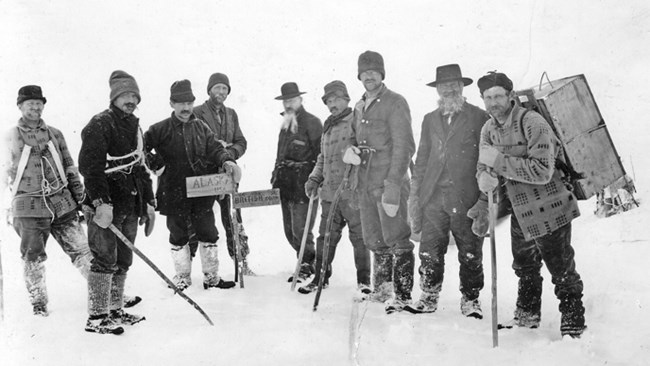 The majority of Klondike stampeders were from the United States, and when they realized they would be subject to Canadian laws and taxation, many left Canada to stake claims in Alaska. Others, hearing that the Klondike was "all filled up," set their sights on Alaskan gold and never entered Canada at all.
Filled with disgust at the treatment accorded them by the Canadian officials, they have swarmed in thousands below the border, and Alaska is getting the benefit. Instead of being 'weak-kneed' such parties have proven 'stayers'—hardy Americans with pluck and energy, who have towed outfits in boats and waded in gum boots to the headwaters of every stream that helps to swell the Yukon in Alaska.
-Seattle Post-Intelligencer, January 22, 1899
When the world became aware of Klondike gold in 1897 many people were confused about the location of the gold fields. Some imagined the gold (and the boomtown of Dawson City) to be in American territory. Others knew it was in Canada but anticipated the area would soon be annexed by the United States. Tensions mounted between the two countries over the not-yet-established border at critical mountain passes and whether or not Canada would have an ocean port in southeast Alaska. As for the gold-seekers, they cared less about questions of sovereignty and more about locating a golden horde—wherever it might lie.