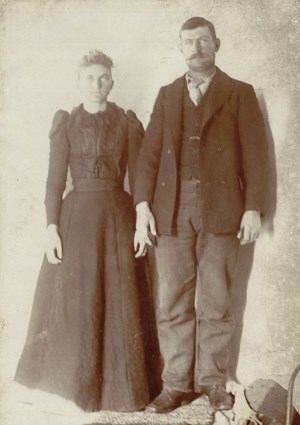 Sam Creek Cabin is one of the oldest log structures in Yukon-Charley Rivers National Preserve. Built by a local miner named Sandy Johnson near the banks of the Yukon River, the cabin was used as temporary lodging by people working their way up to mining claims on Sam and Ben Creeks. Arthur "Cap" Reynolds (seen at right with his wife Sadie in 1900) is the person most closely associated with the cabin and with Sam Creek.

I am planting my garden now; I usually raise enough garden to last me through the winter... I have everything to get along with; I don't need anything—only company.

-Cap Reynolds to his niece,
January 10, 1945


The story of Arthur and Sadie Reynolds illustrates the risks and rigors of life on the northern frontier and adds volumes to our understanding of the cultural landscape in Yukon-Charley Rivers National Preserve. The couple were married in 1881 and owned a ranch near Glenwood Springs, Colorado where they raised horses and cattle. Both of their children were born on the ranch but soon died of scarlet fever. In 1906, after hearing rumors of gold strikes in Alaska, Arthur and Sadie decided to sell their belongings, rent out their ranch, and move north for a new life along the Yukon River.