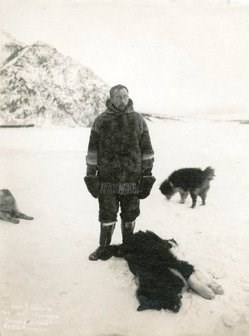 On my part, I was wild with eagerness to get to a telegraph office and send the news to the world of our success in conquering the Northwest Passage.
—Roald Amundsen, My Life as an Explorer (1927)
In the community of Eagle on the banks of the Yukon River visitors often stumble upon a small park and a gleaming metallic monument dedicated to the Norwegian explorer Roald Amundsen. It is not immediately obvious why the first man to sail through the Northwest Passage would be so honored 500 miles from the Arctic Coast, but the reason soon becomes clear: he traveled to Eagle because he needed a telegraph station. As far back as the Middle Ages, European explorers yearned to discover a sea route across North America that would deliver them easily to rich Asian markets. However, the quest for this "northwest passage" remained a dream beyond reach until Amundsen and his crew sailed over the top of the continent in 1905. The reason he needed the telegraph station was to announce this achievement to world.
The explorer's life
Born in Borge, Norway in 1872, Amundsen dreamed of becoming a polar explorer even as a small boy. He devoured all the literature he could about the poles and devoted much time to training and strengthening his physique to ready himself for hazardous adventures. At the urging of his parents he studied medicine, but when he was 21 years old both of his parents died and the young man abandoned this career to pursue his dream. He first traveled north as a sailor on an Arctic sealing vessel and then south as first mate on an expedition to investigate the coast of Antarctica. After listening to many scientists debating whether the magnetic poles were fixed or if they moved over time, he had an idea. If he could discover this secret of the North Pole, it would provide a scientific justification (and funding opportunities) for his real goal: sailing through the Northwest Passage in Canada's Arctic Archipelago.