Yosemite Medical Clinic Staff
Physician and Medical Director
Valerie Ohman, MD, FMC
Board certified in family medicine
Captain, US Public Health Service
Captain Valerie Ohman is Medical Director of Yosemite Medical Clinic and Yosemite Emergency Medical Services. She has been in in the park since July 2017, and is board-certified in family medicine. She enjoys primary care, pediatrics and urgent care.
She completed her education at the University of South Alabama, College of Medicine, in Mobile, Alabama, and family medicine residency at University of Alabama, Huntsville. She began her career in the US Public Health Service in Keams Canyon, Arizona, in the Indian Health Service. She also served in Warm Springs, Oregon, and in Camp Verde, Arizona.
She enjoys hiking, swimming, horses, and doing activities with her family.
Nurse Manager
Nick Munoz, NP, MSN, CEN
Commander, US Public Health Service
Staff Nurse
Aneida Shakya, RN
Lieutenant, US Public Health Service
Physician Assistant
Casey Nelson, PA-C, MPH
Lieutenant, US Public Health Service
Lieutenant Casey Nelson is the physician assistant for the Yosemite Medical Clinic and Assistant Medical Director for Yosemite Emergency Medical Services. She serves alongside the medical director, providing primary and urgent care, and attending to emergencies for employees, community members, and Yosemite National Park visitors.
She is a graduate of The George Washington University School of Medicine and Health Sciences, from which she received a Master of Health Sciences in Physician Assistant Studies and Master of Public Health. Prior to her graduate education, she received her bachelor of arts in biology and sociology/anthropology from Lewis & Clark College in Portland, Oregon. While at The George Washington University, she participated in the United States Public Health Service (USHPS) Senior Commissioned Officer Student Training and Extern Program (SRCOSTEP) and was commissioned as a USPHS officer during her training. Following graduation, Lieutenant Nelson served as a physician assistant for the Federal Bureau of Prisons in Bastrop, Texas, where she provided primary care and urgent care to incarcerated individuals until her transfer to the National Park Service/Yosemite National Park.
Throughout her career, Lieutenant Nelson has been passionate about providing healthcare access to communities that need it most. She is a native of Austin, Texas, and prior to beginning her service as a USPHS officer, she worked as a program manager for a non-profit public health organization focused on HIV/AIDS prevention, and later worked for the State of Texas Department of Health Services as an HIV prevention consultant, public health planner and state grant monitor.
In her free time, she enjoys hiking, biking, sharing meals with family and friends, spending time with her partner and their dog. As an avid outdoor enthusiast, she is thrilled to be practicing medicine in the setting of Yosemite National Park and contributing to the health and safety of the park's many visitors and the Yosemite community.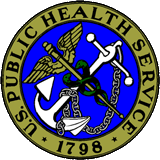 What is the U.S. Public Health Service Commissioned Corps?
The U.S. Public Health Service Commissioned Corps is an elite team of more than 6,500 full-time, well-trained, highly qualified public health professionals dedicated to delivering the Nation's public health promotion and disease prevention programs and advancing public health science. Driven by a passion for public service, these men and women serve on the frontlines in the Nation's fight against disease and poor health conditions.
As one of America's seven uniformed services, the Commissioned Corps fills essential public health leadership and service roles within the Nation's Federal Government agencies and programs.
The mission of the U.S. Public Health Service Commissioned Corps is to protect, promote, and advance the health and safety of our Nation. As America's uniformed service of public health professionals, the Commissioned Corps achieves its mission through:
Rapid and effective response to public health needs
Leadership and excellence in public health practices
Advancement of public health science
Last updated: September 28, 2018