Wawona Campground
Location
On the Wawona Road, one mile north of Wawona, at 4,000 ft (1,200 m) elevation
(View a map showing all campgrounds in Yosemite National Park [2 MB PDF])
(View the current weather forecast)
Season
Loop A: All year
Loops B and C: Approximately April through September
Group site: All year
Horse sites: Approximately April through September
(View this year's estimated opening and closing dates for all campgrounds.)
Reservations
Loops A, B, and C: Required and available online up to five months in advance from approximately April through September. From October through March, campsites are available on a first-come, first-served basis in the A loop (about 20 sites). $26/night ($18/night from approximately October through April)
Group site: Required and available online all year. $50/night
Horse sites: Reservations are required and available only by calling 209/375-9535 from approximately April through September.
Campsite Details
Tent or RV sites: 93 with space for RVs and trailers up to 35 feet
Group sites: 1 (no trailers allowed)
Horse sites: 2 with space for trailers up to 25 feet

Not every site can accommodate equipment of these lengths. Be sure to read the site details when making a reservation on recreation.gov to ensure your equipment will fit into the site you're reserving. You can also find answers to frequently asked questions about length limits and site types or call the Wawona campground office at 209/375-9535.
Each campsite contains a fire ring, picnic table, a food locker, and is near a bathroom with drinking water and flushing toilets. The group site has five food lockers.
Campsites 1-4, 51-53, 55-56, 58-65, 67-94, and 96-98 have lockers measuring 35"(D)x43"(W)x28"(H). All other campsites have lockers measuring 33"(D)x45"(W)x18"(H).
Utilities
Hookups: No
Dump station: Yes, summer only (on Forest Drive east of the Wawona Store)
Services
Groceries: Nearby (small grocery store in Wawona)
Showers: Yosemite Valley (Curry Village and Housekeeping Camp)
Accessibility
The following campsites are suitable for wheelchair and include picnic tables with extended tops. The closest restrooms to these campsites are also wheelchair accessible. These campsites are limited to people with disabilities.

Loop C: sites 67, 69, 70, and 89
Regulations
Pets: Permitted (except in group sites; must be on a leash at all times)
Fires: Wood and charcoal fires are permitted all year.
People per site: A maximum of six people (including children) are allowed per campsite, except for the group site, which requires 13 to 30 people. There is no limit on the number of tents (as long as they all fit into the campsite).
Additional campground regulations apply, as well.
You are required to store food properly in order to protect Yosemite's bears. Learn more about bears, proper food storage, and food lockers.
Map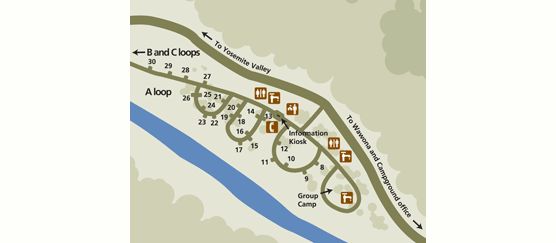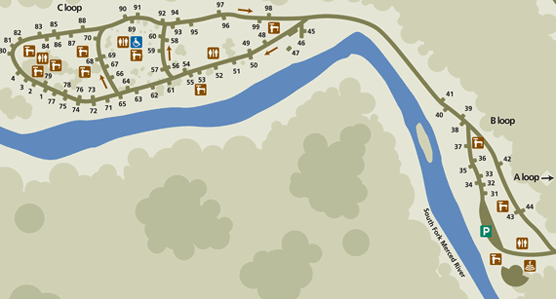 Last updated: October 31, 2020