Meadows and Wetlands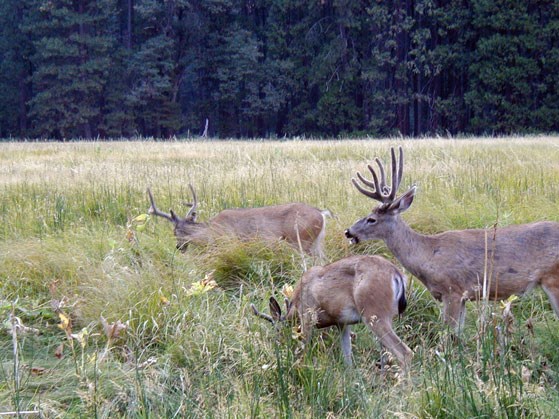 What's so special about meadows and wetlands? Nowhere else in Yosemite will you find a greater diversity of plants and animals. Meadows and wetlands are vital for deer and bears, for numerous birds, and for an unbelievable number of smaller creatures, all of which depend upon an amazing variety of plants.
And, to top it off, the openess of meadows provides great views of the surrounding area.
When visiting meadows, tread carefully and use existing boardwalks and trails where they exist. If you see wildlife, keep wildlife wild; respect animals from a distance.
You'll find several meadows in Yosemite Valley, all of which have boardwalks or trails that are wheelchair accessible (and also great for bicyclists).
Four of the most popular are:
Cook's Meadow, between Yosemite Village and Yosemite Valley Lodge,
Sentinel Meadow (just west of the chapel),
Stoneman Meadow (across the street from Curry Village), and
Leidig Meadow (west of Yosemite Valley Lodge).
Additionally, Wawona has large meadow visible from the road (or by hiking on a dirt road around it) and you can find numerous meadows along the Tioga Road and, of course, at Tuolumne Meadows.
Last updated: July 15, 2019