Missing People in Yosemite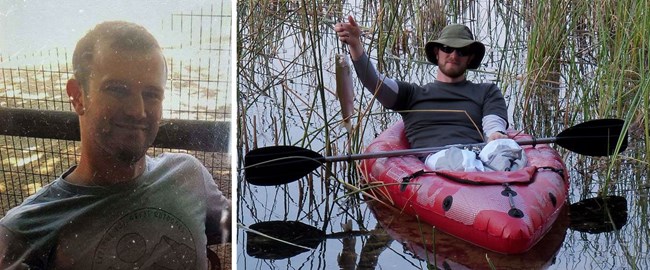 Joel Thomazin (2021)
We are asking all wilderness travelers north of Tioga Road and between Cherry Lake and Tuolumne Meadows to report possible sightings of Joel or any unattended/possibly abandoned equipment. Call Yosemite Search and Rescue at 209/238-7046 or email yosemite.search.rescue@gmail.com.
Joel planned to solo hike from Hetch Hetchy on September 6, 2021, fish in the Lake Eleanor area, and return on September 9, 2021. However, he may have decided to stay out longer and extend his trip to Cherry Lake or to the north or east as far as the Grand Canyon of the Tuolumne River. Joel was likely carrying the kayak packed in a large red pouch attached to the exterior of his backpack.
His family believes Joel had the following equipment:
Floppy boonie hat
Dark blue/green hammock
Large yellowish tan Kelty pack
US Army steel cup dated 1918
Camelback-type red/black daypack
Black and yellow collapsible sink
Bright red inflatable kayak (in photo)
Small collapsible stove in a black bag
Kayak paddle
Petzl Zipka headlamp
Yellow bear can
Garmin Tactix Delta solar GPS watch
Bright green mummy sleeping bag
Fishing pole, fishing gear
If you find one of these items please leave it in place, note the location (coordinates if you can), take photos, and email the information to yosemite.search.rescue@gmail.com.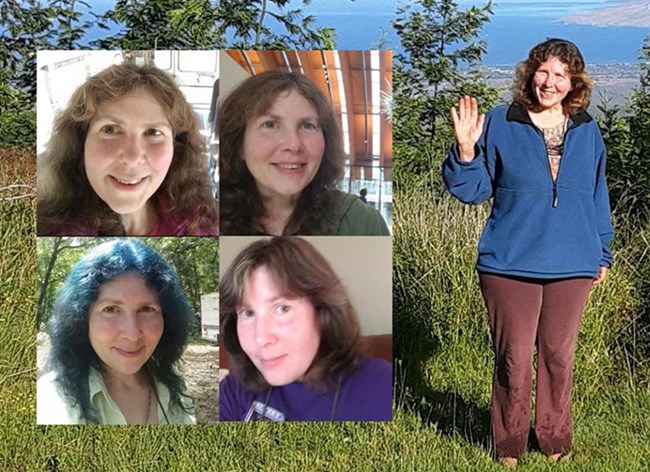 Sandra Johnsen-Hughes (2020)
If you have any information about this individual or if you have been in the area south of Merced Pass and Buena Vista Crest during July 2020, please email us (preferred) or call 209/372-0610, even if you didn't see her or abandoned gear. If you plan to travel in this area and you notice possibly abandoned gear during your trip, don't touch it. Take photos, note the exact location, and report it when you return.
She is 54 years old, 5 ft 3 in, 150 pounds, with brown eyes and brown hair.
She was last seen Saturday, July 4, 2020, near the Chiquito Pass Trailhead in Madera County. She was camping alone in the Sierra National Forest, had crashed her vehicle, and was seen walking away. She refused assistance from other motorists. A sleeping bag matching her recent REI purchase was found a few days later, off trail, 2.5 miles north of the accident scene and just inside the Yosemite National Park boundary. Her original campsite, with most of her gear, appears to have been abandoned.
The search by the Madera County Sheriff and Yosemite National Park has been unsuccessful so far.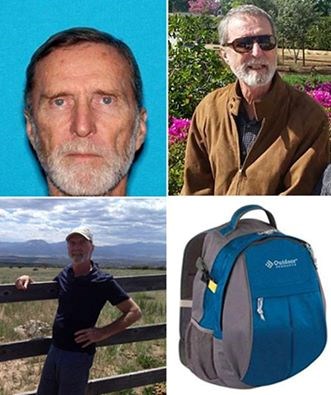 Peter Jackson (2016)
If you have any information about this individual, please call 209/379-1926 (during business hours) or 209/379-1992 after hours.
This individual is believed to have gone on a day hike from his campsite at White Wolf Campground and never returned. It is unknown when he left or which directions he headed. He had texted his son on 9/17/16 saying he was on his way to Yosemite. His vehicle was found at White Wolf Campground, site #58, and his site was paid for until 9/21/16. He is a 74-year-old white male, with slender build, 5 ft 10 in, 155 lbs., with blue eyes, gray hair and beard. He is in excellent physical condition with no medical concerns. He has a royal blue Outdoor Products daypack. A description of other gear and clothing is not available. His pack was found in 2019 between Aspen Valley and Smith Peak.
Last updated: July 24, 2023