Invasive Species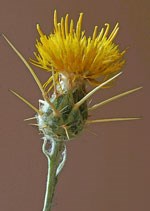 Invasive species have a negative impact on natural resources nationwide, including in Yosemite National Park. Of concern:

Non-native animal species, like the New Zealand mud snail, concern park scientists because this species can completely cover a river streambed, thereby altering the ecosystem. Also, forest pests could threaten park resources and forest health by burrowing into Yosemite's tree bark. Park managers must work to prevent a pest outbreak from occurring.
Plant species, like Himalayan blackberry, can form impenetrable thickets that replace native vegetation. Yellow starthistle, which is a focus to remove in the park's lower elevations, also displaces native vegetation. Park botanists work to detect and prevent invasive plants, also referred to as noxious weeds, that cause ecological or economic damage. A freshwater algae, called Didymo, could threaten Yosemite's rivers and streams by forming massive blooms that carpet stream beds. [142 kb PDF]
Learn more about invasive plants through the park's invasive plant management program, common techniques for invasive plant control, and the top 10 worst plant invaders in Yosemite.
Help the National Park Service by being aware of invasive plants and animals and by avoiding transporting unwanted visitors. It is much easier to prevent the spread of invasive species than to try to eradicate them once they are introduced.
Last updated: June 1, 2015