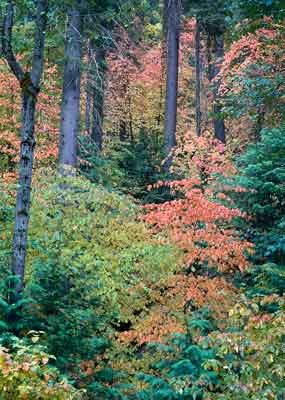 Leaves turn green each spring as they use pigments (chlorophyll, xanthophyll, and carotenoids) to harness the sun's energy. The chlorophyll absorbs red and blue wavelengths but not green ones that are reflected back to our eyes; hiding underneath the chlorophyll are the other compounds for photosynthesis. As temperatures cool and days get shorter, leaves on deciduous trees stop producing new chlorophyll, and the familiar green color breaks down to reveal the other pigments that have been masked all season. Chlorophyll is expensive to make (for the tree); so when there isn't enough light to make it worth expending energy on, the green fades and the colors beneath show. This is a photoperiod process, not a temperature-dependent process.
How is the Red Pigment Made?
Continued sunny days and cool nights trap sugars in leaves, and some leaves will form the red pigment anthocyanin, which colors trees like dogwoods or the non-native sugar maple near the Yosemite Chapel in the Valley. Vines like the poison oak along the El Portal Road also turn a brilliant orange, pink, or even purple.
What Colors Do Leaves Change to in a Variety of Yosemite's Tree Species?
Quaking aspen: Yellow
Dogwood: Red
Non-native sugar maple: Red
Bigleaf maple: Bright Yellow
Black oak: Orange/brown to golden yellow
Ceanothus/Deer brush: Yellow
White alder: Yellow
Black cottonwood/Fremont cottonwood: Yellow
Poison oak: Red to purple