Annual Yosemite National Park Butterfly Count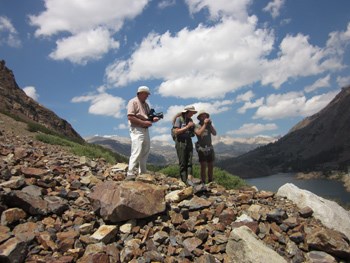 Yosemite National Park held its 9th annual Yosemite Butterfly Count in the Tuolumne Meadows area in summer 2019. Yosemite coordinates this event with the North American Butterfly Association (NABA), an organization that conducts long-term monitoring of butterfly populations all over North America. The purpose of the NABA counts is to determine how many species and individual butterflies can be observed within a 15-mile diameter circle, during a 24-hour period, within the same date-span year after year. Each of the approximately 450 counts nationwide contributes a tremendous amount of information about the geographical distribution and relative population sizes of butterflies all around the country. Participants spend the day gathering data toward long-term monitoring, raising public awareness toward butterfly conservation, and socializing with other butterfly devotees.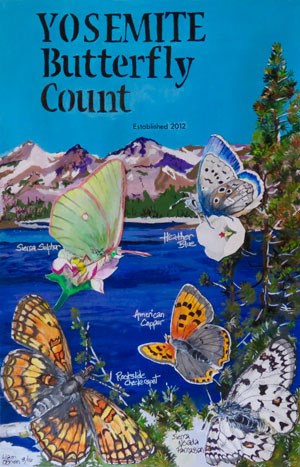 On July 29, 2019, butterfly experts and enthusiasts convened in Tuolumne Meadows in anticipation of finding as many butterflies in a single day as possible. Expert lepidopterists came from around the state to lead their groups in butterfly quests and to share their knowledge and intense appreciation for butterflies and natural history. Following introductions, the larger group divided up into eight smaller groups, each led by one or two butterfly experts. Each group was responsible for counting and identifying butterflies in their respective zone. The butterfly count area included such hotspots as Dana Meadows, Gaylor Lakes, Saddlebag Lake, Ellery Bowl, Warren Fork, Log Cabin Mine Road, Mono Lake County Park, and Lundy Canyon.
Under a partly cloudy sky with minimal wind, butterfly viewing conditions were optimal. Each participant learned to conjure a particular search-image for target butterfly species, depending on the habitat, elevation, and the presence of certain flowering plants. The leaders enthusiastically shared their knowledge about butterfly identification and ecology, including tips for identifying tricky species. At the end of the day, the group reconvened back in Tuolumne Meadows to share highlights, report count results, and enjoy pizza. The best part of every compilation is the lively discussions concerning difficult species identifications.
Since its inception in 2011, the Yosemite Butterfly Count has recorded a remarkable diversity of 100 butterfly species. This diversity is the result of experienced and knowledgeable leaders, a growing number of learned participants, and diverse habitats comprising a 5,000 ft. elevation gradient between the lowest and highest zones. One group can search for butterflies along the shores of Mono Lake at 6,400 feet elevation, while another group can observe butterflies on the Dana Bench at 11,000 feet elevation.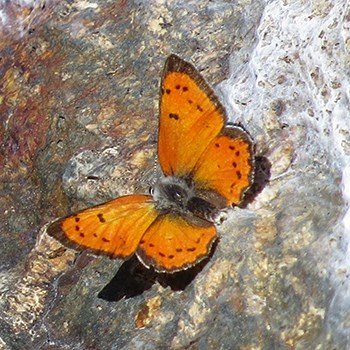 This year (2019), 65 participants counted 76 butterfly species composed of 2,934 individuals. This ties with 2017 for the highest number of species and breaks the record for the most participants and the highest number of individual butterflies. Prior to 2019, the only year to break 2,000 butterflies was 2017, which tallied 2,191. The four most frequently detected butterflies in 2019 were Melissa blue (476), greenish blue (337), tailed copper (169), and Mexican cloudywing (153). These four species completely replaced the high count species from 2018, which were California tortoiseshell (356 individuals), Sierra sulphur (182), mormon fritillary (144), and Edith's copper (81). In 2019, greenish blue and orange sulphur were the most widely observed butterflies, and were the only species observed by all eight groups.
2019 was the year of the "blues!" Observers counted 1,327 "small and blue" butterflies (45% of total count) of 15 different species, with Melissa blue and greenish blue making up 61% of all "blues" observed. For comparison, last year in 2018, observers tallied 310 "blues." Last year in 2018, the "blues" took a backseat to California tortoiseshells (356), which were undergoing a population irruption, comprising 24% of the total count, which was an unusually high proportion considering the species is absent in some years. In 2019, observers counted only 18 individual California tortoiseshell.
With each year of butterfly counting, the species list grows and the chances of observing new species diminishes. However, in 2019, we had a record number of 65 observers and stellar weather, which positioned us well to add three new butterfly species: ceranus blue (1), arrowhead blue (4), and pacuvius duskywing (4). This is in contrast to 2018, when no new species were observed. In 2019 the most notable miss was Heather blue (which was also missed in 2018). The leaders seek rare species such as Heather blue, rockslide checkerspot (5 observed), and chryxus arctic (6 observed), which are some of the highly specialized alpine butterfly species that make the Yosemite count unique. Consistent with past years, the lower elevation groups observed higher butterfly species diversity, due in large part to a greater diversity of host plants.
The combination of the butterflies themselves, people brimming over with natural history knowledge and passion, and beautiful scenery makes this one day very special. As Liam O'Brien put it, "the Yosemite Butterfly Count quickly has become Center Court/Wimbledom of the California Butterfly Count Season." See you at the next Yosemite Butterfly Count on Monday, July 27, 2020!
Additional Information
Check out an entry (includes photos) from our High Country Notebook Blog related to the 2012 event.

Interested in other annual events to help you connect with your inner naturalist? Each year, tens of thousands of volunteers across the Americas join together annually during the Christmas Bird Count. The event provides a full day to celebrate birds.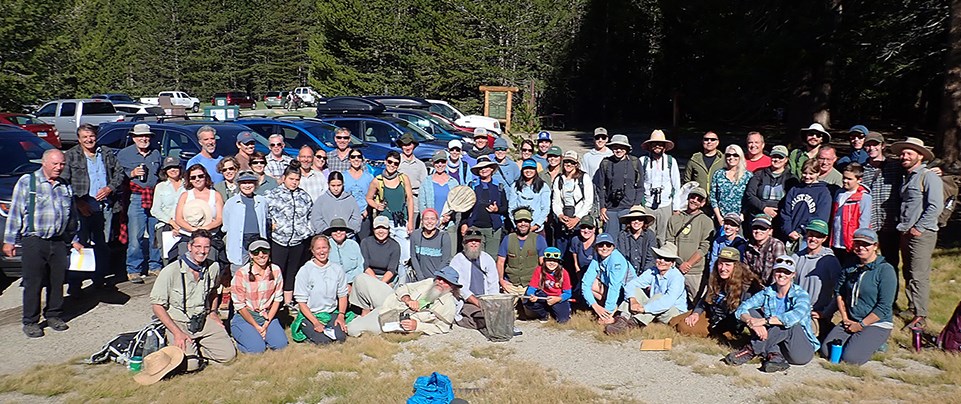 Last updated: March 25, 2020