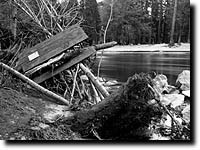 Planning Update
Volume 3, Winter 1997
By now you know that Yosemite has experienced significant damage from flooding. Let me assure you that Yosemite Valley is as beautiful as ever. Events such as this most recent flood helped create the spectacular natural beauty of Yosemite, and essentially the "natural" environment remains little changed. However, we have long recognized the serious impact an event of this magnitude would have on the "human" environment—buildings, roads, campgrounds, power, and sewer. It's abundantly clear that natural processes should not be ignored.
In the days following the storm, it became evident to us that the destruction was merely the darker side of a golden opportunity! The flooding provided a "field test" to confirm the wisdom of the plans for Yosemite Valley, as well as an opportunity to accelerate the implementation of the General Management Plan and restore part of the Valley. This will bring about long called for historic changes in Yosemite National Park. Nature has already begun a process that people have only talked about. As we rebuild we intend to avoid the mistakes of the past.
From the start we have been committed to opening areas of the park as soon as possible. We continue to be mindful of the economic health of individuals and communities surrounding Yosemite. Facilities will be restored as quickly as possible, many in new and more appropriate locations. The challenges that lie ahead of us in the recovery and reopening phases are extensive and far reaching. We will need the assistance and participation of many, including you, before the process is complete. We pledge to keep you informed as we move to bring the Park into the 21st Century—better than before, better for the resources, and better for visitors. In turn, we encourage you to share your hopes, ideas, and comments with us.
B. J. Griffin, Park Superintendent
---
As 1996 came to a close, Yosemite boasted a particularly heavy snowpack. Then the rains came. As warm tropical moisture melted the snow it quickly produced the greatest deluge of floodwaters in the park since 1955. For the first three days of 1997, much of Yosemite Valley was under water. (see map below)
The flood of January 1-3, 1997, graphically illustrated how susceptible many of the Valley's facilities are to flooding. The Merced River and its tributaries left in their wake heavy damage to many park campgrounds, roads, and facilities. They also left a staggeringly complex recovery effort that will cost $178 million dollars.
Statewide flooding in combination with Yosemite's remote location create a unique set of problems in obtaining materials, contractors, and equipment. Direct routes into Yosemite Valley are still restricted due to flood damage. Many supplies and materials need to be brought in on alternate, and longer routes, adding to costs. Already, the cost of road building materials has increased by 20% since the flood. Lodging for construction workers is up to 40 miles away from Yosemite Valley.
The damage is surprisingly broad in it's scope, affecting roads, trails, buildings, campgrounds, utility systems, natural and cultural resources, and personal property. Damage was not restricted to the Valley. Parkwide 400 individual damage sites have been identified. In the days following the flood, new snow covered the high country, preventing accurate surveys of flood damage along the Tioga Road and other high country locations. No doubt, as the snow recedes additional damage will be uncovered.
A few specific examples include:
A 7.5 mile stretch of road between El Portal and the Valley on Highway 140 sustained severe damage in 19 separate locations. In several places along this stretch, the road and underlying supporting ground are gone. At Windy Point the river undercut a 50 foot high rock slope below the road collapsing one lane. At the "Cookie", 300 feet of roadway completely washed out.
Highway 120 between Big Oak Flat and the Yosemite Valley sustained damage in four places.
Nine road bridges in the Valley suffered damage and will need to be repaired.
33 trail bridges throughout the park have been destroyed and much of the park's 800-mile trail system suffered erosion.
Over 350 motel and cabin units at Yosemite Lodge were flooded.
A 300 foot section of the 14 inch sewer line located beneath Highway 140 was destroyed. An additional 18,000 feet of sewer line must be camera inspected to determine the extent of damage.
Water, sewer, and power utilities throughout the valley were flooded.
Over 200 concession employee quarters were flooded, displacing 439 employees, many of whom lost all their belongings.
Tools, furniture, computers, buses, trams, and a variety of personal property and equipment was destroyed.
---
What Does This All Mean to You?
A visit to Yosemite in the near future will be different than normal, but not impossible. Parts of the park have reopened for winter recreation and work continues to reopen other sections. Highway 41 to Wawona reopened a few weeks ago followed shortly thereafter by Badger Pass. Both areas offer cross country skiing and snowshoeing opportunities as well as guided naturalist activities. By the time this newsletter comes out Crane Flat will be open providing access for skiers or hikers to the Tuolumne and Merced Groves of Giant Sequoias. Yosemite Valley sustained the most flood damage and will require a longer time to reopen. Since the flood, response teams have been working to make emergency repairs to the utility systems, remove debris, assess damage, and begin salvage operations. These are just the beginning stages of a recovery effort that may take many months. Every attempt is being made to reopen the Valley as soon as it is safe to do so!
What Can You Expect This Summer?
Campgrounds
Approximately half of the campsites in Yosemite Valley were damaged by the flood and will not be available for use this summer. These include all of the Lower River, Upper River, and Lower Pines campgrounds. Damaged campsites will be replaced in the Valley, but out of the floodplain in accordance with the General Management Plan. This will allow sensitive areas to be restored to natural habitat. This summer there will be approximately 1,400 campsites available throughout the Park.
In addition to Yosemite Valley, Tuolumne Meadows, Crane Flat, and Hodgdon Meadows Campgrounds, the Wawona campground will be added to the reservation system this summer. Reservations may be made by calling: 1-800-436-PARK (1-800-436-7275).
Trails
The full extent of trail damage has been hard to determine due to the extensive snow cover. We do know many trails have been damaged. Some trails may be closed. Others will have difficult stream crossings due to bridge damage, particularly during heavy spring runoff. Park personnel will work closely with back-country users to assist with trip planning.
Lodging
Fewer lodging units will be available in Yosemite Valley this summer. Over 350 lodging units flooded at Yosemite Lodge. Curry Village will be open, but the number of tent cabins available may be reduced because of the need for employee housing. The damage and repair for Housekeeping is still being assessed. The Ahwahnee Hotel was largely unaffected by the flood.
Roads
Expect traffic delays and temporary closures throughout the park. Extensive road and bridge repairs will be ongoing throughout the summer. Access to the Valley via Highways 41 and the Big Oak Flat Road (Highway 120) should be available soon. Highway 140 was damaged the most and will require rebuilding rather than repair. We expect this work to take several months, but it should be open to visitors with some traffic restrictions. Damage to the Tioga Pass road is unknown at this time.
Other Services
Some visitor services may be curtailed due to damaged facilities. Trail damage and a shortage of employee housing will prevent commercial horseback rides from being offered in Yosemite Valley this summer. Stores, restaurants, and gas stations should operate as normal.
The Winter Is Not Over
The remaining weeks of winter weather hold the promise of additional rain and snow. The latest snow surveys indicate that the water content in the snowpack is at approximately 200% of normal. The potential for serious spring flooding still looms and, along with that, goes the possibility of further damage.
---
What the Flood Means to Park Planning
The key to rebuilding intelligently is learning from the mistakes of the past. The flood provided validation for the extensive planning efforts that have been ongoing since 1980. We knew where problems were. The flood underscored the fact that facilities need to be moved out of the floodplain. Many of the structures and facilities damaged or destroyed had been damaged by much smaller floods. The precepts of the 1980 General Management Plan still hold true today. The National Park Service has no intention of deviating from existing plans as we deal with recovery efforts.
We now have an opportunity to act on the General Management Plan. The recovery plan is estimated at $178 million dollars. About $70 million of this represents relocation of facilities according to the General Management Plan.
Fortunately, we have already spent a lot of time over the last three years working through alternative solutions to deal with some of these problems. Alternatives for moving employee housing to more appropriate locations are presented in the Draft Yosemite Valley Housing Plan, which is currently available for public comment until March 13. The Draft Valley Implementation Plan was scheduled to be released in February. This plan was to further define implementation of the 1980 General Management Plan and will present alternatives to move facilities out of the floodplains, river corridors and meadows, or in many cases out of the Valley altogether. We are now hard at work refining this plan to incorporate new information from the flood. Included in the Valley Implementation Plan will be alternatives for locations of the reconstructed campgrounds, reconfiguring circulation patterns to eliminate unnecessary roads, and methods to reduce congestion. We are going to move the Valley Implementation Plan forward as quickly as we can to serve as a guide for most of the restoration work.
At Yosemite Lodge, we already knew that many lodging and employee housing units needed to be moved out of the floodplain. The flood put them out of commission. To return the Lodge to full service sooner than might be expected we have decided to separate the specific planning for Yosemite Lodge and accelerate it. By accelerating this part of the Valley planning, we hope to meet visitor lodging needs, reduce the size of the lodge footprint, improve circulation, and provide a coherent plan for reconstruction. An Environmental Assessment will be completed for this project and we will conform to the overall reductions in lodging units set forth in the General Management Plan. We will provide information, in the near future, possibly in the form of a newsletter.
This flood does not mean the General Management Plan and subsequent planning can now be fully implemented without public review. This is an opportunity to take actions called for in the General Management Plan. We intend to move forward with those elements of the plans that intersect with recovery efforts after we have had your input and guidance. In the coming months you will receive additional newsletters that will provide information on the alternatives in the Valley Implementation Plan and Yosemite Lodge Development Concept Plan. The Draft Valley Implementation Plan will be available for your review in April and we will need your thoughtful comments.
In many ways this flood has presented us with opportunities--opportunities to work together to implement the General Management Plan's vision as we move into the 21st century